Jean-Pascal Machiels
Address
Cliniques universitaires Saint-Luc, Université catholique de Louvain
Brussels

Country

Belgium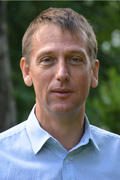 Jean-Pascal Machiels, MD, PhD, is Head of the Department of Medical Oncology at the Cliniques Universitaires Sain-Luc, Brussels, Belgium. He is also a member of the Directory Board of the Oncology Center at Cliniques Universitaires St-Luc since 2005.
Dr. Machiels graduated from the Johns Hopkins School of Medicine, Baltimore USA (Fellow in Medical Oncology, 1998-2000), and obtained his MD degree in 1993 and PhD in 2001 from the Université catholique de Louvain, Brussels, Belgium where he is currently professor (clinical).
His main interests cover the fields of head and neck cancer, clinical and translational research, and early clinical trials (phase 1). He is Section Editor (head and neck cancer) for the European Journal of Cancer (EJC).
Dr. Machiels has published more than one hundred papers reporting on clinical trials and translational research.
In 2000, Dr. Machiels won the 'Translational Research Award, First Prize', Johns Hopkins Oncology Center, Baltimore, USA, and in 2002 the AMGEN Award from the Belgian Society of Medical Oncology.
Dr. Machiels was a member of the ESMO Head and Neck Cancer Faculty Group from 2012 to 2016. Since 2017, he has been a member of the ESMO Educational Committee, coordinator of the ESMO Head and Neck Cancer Faculty Group and a Deputy Subject Editor of the ESMO Guidelines Committee.
ESMO 2017 Congress
"Management of head and neck cancer is rapidly changing. The Head and Neck Cancer track at ESMO 2017 will review the most recent advances in treatment and highlight future avenues."
Jean-Pascal Machiels

Jean-Pascal Machiels was the Head and Neck Cancer Track Chair of the ESMO 2017 Congress, which took place in Madrid, Spain (8-12 September 2017).