Christoph C. Zielinski
ESMO Executive Board
Function
ESMO Executive Board

Address
Clinical Division of Oncology
Department of Medicine I
Medical University Vienna
Country

Austria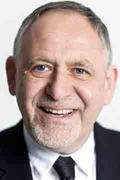 Professor Zielinski is Director of the Clinical Division of Oncology and Chairman of the Department of Medicine I at Medical University Vienna, Austria. He also serves as Director of the Comprehensive Cancer Center at Medical University Vienna and the General Hospital in Vienna, Austria, and is President of the Central European Cooperative Oncology Group.
Professor Zielinski completed his medical training at the University Hospital Vienna and began his career with a position as a research fellow at the Cancer Research Center at Tufts University, Boston, USA. His recent clinical research activities cover a wide range of cancer therapies, with particular focus on clinical trials, breast and lung cancer research and treatment and development of targeted drugs. He has published env. 580 original papers and reviews in peer-review journals
His h-Index is 59 and the citations of papers authored by him exceed 15.300.
Prof. Zielinski is Editor in Chief of the Open-Access Internet Journal "ESMO Open – Cancer Horizons".
In 2013, Professor Zielinski received a "Dr. h.c." degree from Titu Maiorescu University in Bucharest and is a Honorary Member of the Polish Society for Oncology (2016).
Professor Zielinski is a member of the European Society for Medical Oncology (ESMO) where he serves in the Executive Board and as Chair of the Fellowships and Awards Committee and is member of ESMO's Women for Oncology and Magnitude of Clinical Benefit Scale Committees. He was Local Officer of the ESMO Annual Meeting 2012 and the ECC Meeting 2015. Prof. Zielinski is also member of he American Society of Clinical Oncology (ASCO) and the American Association for Cancer Research (AACR).
ESMO Presidential Election 2020-2021
Christoph C. Zielinski is one of the candidates in the ESMO Presidential Election 2020-2021.
Voting will open on Saturday 3 June 2017, 00:01 CEST (Central European Summer Time) and will close on Monday 26 June 2017 at 23:59 CEST.