Benedikt Westphalen
| | |
| --- | --- |
| Address | University of Munich and Comprehensive Cancer Center Munich |
| Country | Germany |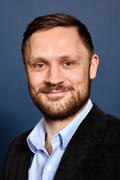 Benedikt Westphalen studied Medicine and Molecular Biology in Hamburg, Philadelphia, New York and Bern.
After graduating medical school, he started training in Internal Medicine at the University of Hamburg in 2008. In 2010, Dr. Westphalen joined the laboratory of Timothy C. Wang at Columbia University in New York City as a postdoctoral fellow. His studies were focused on cellular plasticity and the origins of gastrointestinal malignancies.
After his postdoctoral training, he joined the department of hematology and oncology at the University of Munich in 2013. In Munich, Dr. Westphalen has focused on clinical and translational research in pancreatic cancer and early phase clinical trials. Since 2017, he heads the "Molecular Diagnostics and Therapy Program" and the "Molecular Tumor Board" of the Comprehensive Cancer Center Munich. Furthermore, he serves as the medical lead for early phase clinical trials in medical oncology.
He has received research support from the German Research Foundation, the Universities of Hamburg and Munich and young investigator awards from the AACR and GRG/AGA. Dr. Westphalen has authored and co-authored more than thirty-five research papers.
Dr. Westphalen joined ESMO in 2017 and was participant of the "ESMO Leaders Generation Programme" in 2018. He joined the Translational Research and Precision Medicine Working Group in 2019.