Erika Martinelli
Address
U.O.C. Oncologia Medica ed Ematologia
Dipartimento Medico-Chirurgico di Internistica
Clinica e Sperimentale "F. Magrassi e A. Lanzara"
Naples
Country

Italy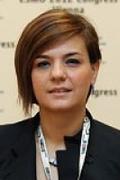 Dr Martinelli was awarded her medical degree in 2000, her degree as specialist in Medical Oncology in 2004 and her PhD in 2008 from the Naples Second University. Her research interests include the development of new targeted agents against growth factors in preclinical and early clinical studies mainly in colorectal cancer and in particular defining the possible biological markers of intrinsic or acquired resistance to treatments. She is an active member of ESMO, and as member of the ESMO E-Learning and Continuing Medical Education Working Group (ECWG), she is involved in the ESMO E-Learning programme, and takes care of the assessment of courses, symposia, congresses, conferences and other educational activities, ensuring the high ESMO standards value and quality, and taking care of the assignment of educational hours (ESMO CME points) to proposed activities. She is also a member of ESMO Young Oncologists Committee (YOC).
We have asked Dr Martinelli to tell us a bit more about her involvement in the Young Oncologist Committee, especially to get her tips on developing a productive career in medical oncology:
Could you tell us why you chose to become a medical oncologist?
I decide to choose medical oncology as a speciality because it seemed to me as one of the most dynamic branch of medicine .The cure for cancer has not been discovered yet , the contribution of the research is crucial and this is the motivation that drives my work as oncologist.
What does your involvement with ESMO and the Young Oncologists Committee (YOC) mean to you?
I am honoured to be part of ESMO and of YOC in particular, where I found an active and motivated group of young people from different European countries. I wish to continue to give my contribution to the ESMO Young Oncologists Committee, although in few years I will no longer be considered a Young Oncologist according to the age limit. I certainly wish to focus my commitment on other activities developed by ESMO.
What are your plans for your future career?
I look forward to reinforcing my oncology network in Europe. I hope to further improve my academic career and to be more involved in my favourite research fields.
Do you have some good advice you would like to share with your international colleagues?
I suggest to visit ESMO website and YOC corner in particular. I encourage my colleagues to create a network with us by joining our activities such as Journal Club as well as the forthcoming projects of YOC.