University Hospital of Udine, Department of Oncology
ESMO Designated Centre of Integrated Oncology and Palliative Care
Contact person
Dr Gianpiero Fasola, Head of the Medical Oncology Department
Address
Piazzale S. Maria della Misericordia, n. 15
33100 Udine
Country

Italy

Contact
Tel: +432 552751 -

segreteria(dot)oncologia(at)aoud(dot)sanita(dot)fvg(dot)it

Web
University Hospital of Udine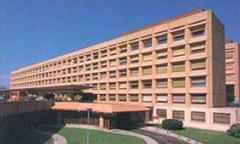 History
The Oncology Unit of Udine, was instituted in the late 1950's and is one of the oldest in Italy, possibly in Europe. In 2004 the Department of Medical Oncology was born from the merger of two pre-existing units: the Oncology Unit of the Regional Hospital Santa Maria della Misericordia and the Oncology Unit of the University of Udine. Four years later the two hospital structures were unified. A few months after the merger, in 2008, the Palliative Care Unit, sited close to the Oncology Ward, was opened.
Profile
The Medical Oncology Department is situated in a building on its own. There are three levels: on level 0 or ground floor there is the Day Hospital, on the level 2 or second floor the Visiting Rooms for out-patients visits and on level 3 or third floor both the Oncology Ward and the Palliative Care Unit.
The Day Hospital is made up of five rooms, one with six armchairs and the twelve beds are dispersed in the other four rooms. The Oncology Ward is reserved to patients that must undertake chemotherapy or radiotherapy treatments but also supportive care; the Palliative Care Unit is reserved to those patients with advanced disease requiring best supportive care. The Oncology Ward is made of 8 rooms with 20 beds, 2 beds in 2 separated rooms are kept for isolation; the Palliative Care Unit is made of 6 beds both in single and double-rooms. In each area there is a separate Nursing Staff: between 20 Nurses and Health Care Assistants work in the Day Hospital and between 33 Nurses and Health Care Assistants work on the both the Oncology Ward and the Palliative Care Unit. The Nursing and Medical Team devoted to the Palliative Care Unit has further instruction on palliative care.
The Medical Staff is composed of 18 Medical Oncology Consultants and 17 Trainee in Medical Oncology. There are also three Psychologists working in our Department, two devoted to the in- and out-patients and one to the patients on the ward. Everyday there is a Welfare Worker, a Physiotherapist, a Dietician and a Spiritual Assistant working in the Oncology Ward and Palliative Care Unit.
Each patient starting chemotherapy treatment gets a brochure/leaflet describing the principal treatment side effects and how to manage them, together with useful phone numbers in case of emergencies. As a result of the collaboration with voluntary associations, two more guides are provided to patients, with all the information about services, facilities and assistances reserved to cancer patients both in hospital and local areas. Moreover, in our Department there is a Visiting Room dedicated to unplanned visits, most of them related to treatment side effects or disease complications. This service is covered everyday by a Trainee in Medical Oncology and a Medical Oncology Consultant.
Specialities
In our department the Medical Oncology Consultants and all Trainees in Medical Oncology are subdivided into groups, each dedicated to the main cancer diseases: Breast, Gastro-Intestinal (GI), Thoracic and Genitourinary (GU) group. Recently, also the Head & Neck (H&N) the Central Nervous System (CNS) and the Skin & Melanoma group have been activated. As clinical research is one of the main interest and objectives of our Department, our Institute is a recruiting centre for several national and international, sponsored and spontaneous clinical trials (about 38 clinical trials are currently on going). Both clinical and research meeting are regularly planned in our institution: the weekly MDTs for subspecialities; meetings to discuss clinical cases twice a week, management meeting once a week, once a month research group meeting and a weekly Journal Club. Seminars and Meetings are periodically organized in our institution, also in collaboration with other cancer centres.
Palliative and supportive care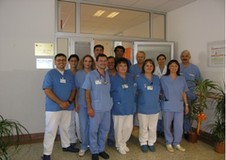 The Palliative Care Unit is made up of 6 beds and 4 rooms and provided with sofa beds for relatives. Spaces are organized in order to offer both to patients and caregivers a comfortable place, allowing the patient's relatives to stay all day and night with the patients in privacy. A Medical Oncology Consultant and a Trainee in Medical Oncology visit the patients during the daily ward round; a Trainee in Medical Oncology is present and a Consultant is on call at home during the night. Psychosocial problems are identified by meeting the patient and his family. Doctors, Nurses and Welfare Worker usually attend these meetings. Moreover, the Welfare Worker helps to find the best continuing care at home, being in contact with the community team. Our Psychologist offers psychological support to care givers during all the phases of disease and during the grief. Finally, a great help comes from volunteers, being affiliated to voluntary associations. A written document (called "Carta dei servizi") provides all information for supporting patients at home.