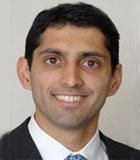 Michael Gupta

Department of Otolaryngology-Head and Neck Surgery
Hamilton
Michael Gupta attended medical school at the University of Alberta and postgraduate training at the University of Manitoba and the University of Ottawa. He is currently on staff as a Head and Neck Surgeon at McMaster University. His clinical practice primarily involves the treatment of malignancies of the upper aerodigestive tract, cutaneous malignancies of the face and neck, as well as neoplasms of the salivary glands, thyroid, and parathyroids.
Dr. Gupta is the Research Supervisor for the Division of Otolaryngology-Head and Neck Surgery as well as the Chair of the Head and Neck Disease Site Team at the Hamilton Regional Cancer Centre. He serves on several committees including the Cancer Care Ontario Program in Evidence Based Care Head and Neck Disease Site Committee.  
Dr. Gupta's research interests include health database creation and health economic evaluation. He is specifically focused on the health economic evaluation of new surgical technologies especially those applicable to Head and Neck Surgery. He aims to produce economic analyses that can inform the decisions of health policy makers to ensure efficient, high quality patient care.
Last update: March 2014