Valentina Gambardella
Address
U.O.C. Oncologia Medica ed Ematologia
Dipartimento Medico-Chirurgico di Internistica
Clinica e Sperimentale "F. Magrassi e A. Lanzara"
Naples
Country

Italy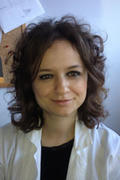 Valentina Gambardella is a resident at the U.O.C. Oncologia Medica ed Ematologia, Dipartimento Medico-Chirurgico di Internistica, Clinica e Sperimentale "F. Magrassi e A. Lanzara".
She got her Medical Degree, cum laude, from the Seconda Università degli Studi di Napoli, Naples, Italy in 2008. At the same University in 2009 she started her Fellowship in Medical Oncology with Professor F Ciardiello and she will finish at the end of June 2014.
Part of her fellowship, from August 2012 to July 2013, was at the Hospital Clinico de Valencia, Department of Haematology and Medical Oncology under Professor A Cervantes.
Valentina Gambardella has been sub-investigator in various clinical trials and co-author in various publications and abstracts.
Her research interests include the possible biological markers of intrinsic or acquired resistance to treatments in gastric cancer. She is an ESMO member.