Rosa Giuliani
Address
S.Camillo-Forlanini Hospital
Rome
Country

Italy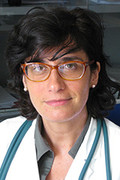 Dr Rosa Giuliani is a consultant in medical oncology at the Oncology Dept of S. Camillo-Forlanini Hospital in Rome.
She earned her medical degree from the University of Rome, La Sapienza, in 1996 and she went on to specialise in medical oncology in 2000.
She dedicated several years specializing in the treatment of breast cancer at the Breast Unit of the Jules Bordet Institute in Brussels (2001-2003), at the Cancer Cell Biology Dept of Hammersmith Hospital (2005-2006) and at the Breast Unit of Charing Cross Hospital (2008) in London.
Dr Giuliani main areas of interest include the treatment of breast cancer, both early and metastatic, and the clinical and regulatory development of innovative drugs.
In 2011-12 she went to the European Medicines Agency (EMA) as national expert on secondment for eight months. Since 2012 she is a core member of the EMA scientific advisory group in oncology.
Since 2012 Dr Giuliani serves the ESMO Public Policy Committee and on behalf of ESMO participates to the activities of the EMA Healthcare Professional Working Party (HCPWP), with the main interest to strenght the collaboration between the academic and regulatory worlds. Since the end of 2013 she represents ESMO in the Stakeholder Forum (Healthcare Providers group) of EUnetHTA (European Network for Health Technology Assessment ).
Dr Giuliani is passionate about structuring a global and rational approach for drug development and she firmly believes that the early dialogue between all relevant stakeholders (patients, patients advocates, HCPs/Academia, industry, regulatory and HTA bodies, payers) is the key element which will ultimately lead to timely, equitable and affordable development of new drugs and medical technologies.