Morena Fasano
Address
Faculty of Medicine
Second University of Naples
Naples
Country

Italy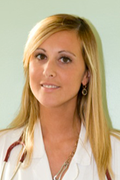 Morena Fasano is a young oncologist. She received her Medical Degree, cum laude, in 2006 and in 2011 she completed her specialisation in Medical Oncology with Professor Fortunato Ciardiello at the Second University of Naples.
From August 2011 to August 2013, she worked at the Falck Division of Medical Oncology (Niguarda Ca' Granda Hospital, Milan) with Dr. Salvatore Siena. During these two years, she approached several tumour types, with particular interest in new molecular targets and innovative treatments in lung cancer.
After that experience, she moved back to Naples, where presently she continues her research working with Prof Ciardiello at the Second University of Naples. At the same university in January 2015 she gained her PhD in "Medical and Surgical Oncology and Clinical Immunology".
Dr Fasano has covered the role of Sub-Investigator in several clinical trials and has been a co-author in various publications in important international journals.
She is an ESMO, AIOM (Italian Association of Medical Oncology), and AIOT (Italian Association of Thoracic Oncology) member. In addition to her clinical activities, her research interests include the study of primary and acquired resistance mechanisms both to EGFR-TKIs treatment and to ALK-inhibitors in lung cancer.