Joaquim Bellmunt
Address
Solid Tumor Oncology (GU & GI) Section
Medical Oncology Service
Hospital del Mar
Barcelona
Country

Spain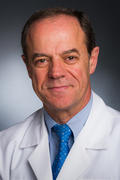 Dr Joaquim Bellmunt graduated in Medicine and Surgery at the Universidad Autónoma de Barcelona in 1982, and gained his doctorate cum laude from the same university in 1989. He was a resident physician in Medical Oncology at the Hospital Universitario de la Vall d'Hebron in Barcelona. His background was completed when he gained the European Certificate in Medical Oncology in London in 1989, and spent time with the Clinical Immunology Service, the Medical Oncology Division and the Department of Immunopathology at the Memorial Sloan-Kettering Cancer Center in New York in 1987 and 1989. After finishing his residence, he joined the Medical Oncology Service at the Vall d'Hebron Hospital (from June 1988 until December 2005) as Head of the Uro-Oncological Unit. In January 2006 he was appointed Head of the Solid Tumour Section at the Medical Oncology Service of the Hospital del Mar in Barcelona. Since April 2013 he is the Director of the Bladder Cancer Center at the Dana Farber Cancer Institute in Boston (MA).
Dr Bellmunt is past-president of the Advanced Bladder Cancer Committee of the European Organization for Research and Treatment of Cancer (EORTC) and has been consultant to the Genito-Urinary Group (EORTC-GU) since 2000. He is co-founder and past-president of the Grupo Español de Tratamiento de Tumores Génito-Urinarios (SOGUG- Spanish Group for the Treatment of Genito-urinary Tumours). He was professor of Medicine at the Pompeu Fabra University in Barcelona in 2006 and since 2013 is Associate Professor at Harvard Medical School in Boston. He is also editorial consultant to the Journal of Clinical Oncology, Annals of Oncology, European Urology, European Journal of Cancer, British Journal of Urology Int. and Journal of Urology, among other publications. Dr Bellmunt has published more than 80 peer-reviewed articles and has made over 100 contributions to books and congresses.
His research fields are genito-urinary clinical oncology, the development of drugs aimed at new therapeutical targets, early-phase clinical and translational research in the area of growth factor receptors and angiogenesis, among others, as objectives in cancer therapy. He is in charge of internationally coordinated trials aimed at the development of new drugs for the treatment of prostate, kidney and bladder cancer.
He is a member of the American Society for Cancer Research (AACR), the American Society of Clinical Oncology (ASCO), the European Society for Medical Oncology (ESMO) and the Sociedad Española de Oncología Médica (SEOM). He acts in an expert advisory capacity for drawing up the Oncoguies (Oncological Guides) for the CatSalut (Health Service) of the Generalitat de Catalunya (Catalan Autonomous Government).