Florian Lordick
Address
University Cancer Center Leipzig
University Clinic Leipzig
Leipzig
Country

Germany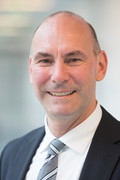 Dr. Lordick is a Professor of Oncology at the University Hospital Leipzig, Germany. Dr. Lordick was born in Munich in 1966, and carried out his medical training at the universities of Regensburg, Munich and Lausanne. He obtained his board certifications in internal medicine and in haematology and medical oncology and in 2002 he was nominated consultant physician at the Technical University of Munich. In July 2007 he was nominated assistant professor and became the head of the outpatient department at the National Centre for Tumour Diseases, University of Heidelberg. In 2009 he became head of haematology and oncology at the Klinikum Braunschweig and was nominated associate professor at the Hannover Medical School. Since 2012 he has been a professor at the University of Leipzig and director of the comprehensive cancer centre in the Leipzig University Hospital. In 2018 he was additionally appointed as director of the department of haematology and medical oncology at the University Hospital Leipzig, Germany.
Dr. Lordick is a member of the board of directors and secretary of the "German Cancer Society" (DKG). He is a coordinator of the ESMO GI faculty and chairman of the EORTC GI Tract Cancer Working Group (2018-2020). He is the president of the International Gastric Cancer Congress (IGCC) to be held in Prague in May 2019. In 2019-2020 he will be a member of the ESMO / ASCO Global Curriculum Working Group.
Dr. Lordick's scientific focus is the clinical and translational research in gastrointestinal cancer, comprehensive cancer care, new drug development, molecular imaging, and response prediction. Dr. Lordick has authored and co-authored more than 280 peer-reviewed articles. He is co-editor and member of the editorial board of important international oncology journals including Annals of Oncology, the journal of ESMO, and a reviewer of international and national research and funding societies.