Demetris Papamichael
Address
Department of Medical Oncology
Cyprus Oncology Centre
Nicosia
Country

Cyprus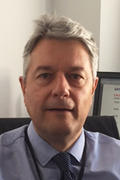 Dr Demetris Papamichael is Director of Medical Oncology at the Cyprus Oncology Centre in Nicosia.
He obtained his medical degree from the University of London/Westminster Medical School in 1987 and became a member of the Royal College of Physicians in 1991. He subsequently trained in Medical Oncology at the Royal Marsden and St Bartholomew's Hospitals in London.
He is an ASCO Merit Award winner and Member of the ESMO metastatic Colorectal Guidelines Committee, and a Member of ASCO and SIOG.
His main interests include the management of gastrointestinal cancer and colorectal cancer in the elderly.
Dr Papamichael heads a SIOG (International Society of Geriatric Oncology) Task Force that has established management guidelines in Elderly Colorectal Cancer Patients.
Dr Papamichael has published in International peer-reviewed Journals. He is actively involved in teaching and in the organisation of ESO and EORTC -labelled courses.