Anita Margulies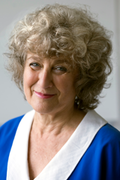 Anita Margulies BSN RN, completed her professional training at Michigan State University, U.S.A. followed by a position as head nurse at the University of Michigan Medical Center. Her specialty is in adult clinical oncology nursing with particular emphasis on systemic therapies. She is active in developing and organising oncology education programmes as well as lecturing for nurses and other healthcare professionals at all levels both in Switzerland and Europe.
Her work in Switzerland at the University Hospital in Zürich covered over 40 years of clinical oncology. She was responsible for organising one of the first out-patient oncology nursing units in Switzerland and developing nursing curricula in various nursing schools. Since 2010 she is self-employed as a consultant and educator on many projects and educational events in and out of Switzerland.
She is member of Onkologiepflege Schweiz (Chair - Continuing Education Group), EONS (European Oncology Nursing Society, Co-chair Education Working Group), ECCO (European CanCer Organisation, Executive Board Member), ESMO, the Swiss Oncology Nursing Society, the Cancer League Zürich (Board member), the Oncology Nursing Society (USA). Within these groups, she is presently working on various projects.
Anita Margulies is co-editor and main responsible for Onkologische Krankenpflege Springer Verlag, 6th Ed. in process and co-editor Medikamente in der Tumortherapie Springer Verlag, 4rd Edition. She has also been instrumental in publishing various symptom management guidelines both in Switzerland and Europe.
In 2013 she received the Pezcoller Foundation Award.
Anita Margulies is living in Zürich, Switzerland, is married and has two sons.