Clinica Universidad de Navarra
ESMO Designated Centre of Integrated Oncology and Palliative Care
Contact person
Prof Jesus Sanmiguel, Medical Director
Address
Avenida Pío XII, 36
31008-Pamplona (Navarra)


Country

Spain

Contact
Tel: +(34) 948 255 400 -

sanmigiz(at)usal(dot)es

Web
Clinica Universidad de Navarra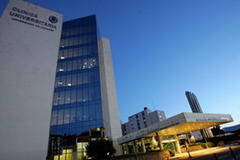 History
The Clínica Universidad de Navarra is a medical hospital, renowned for its high degree of specialisation, ongoing technological renovation and teamwork, which allows for a personalised, multidisciplinary approach to each patient. Founded in Pamplona, in 1961, it has been incorporated as part of the Universidad de Navarra, since 2006 it also has an outpatient clinic in Madrid.
Profile
The Clinica Universidad de Navarra is home to 440 doctors, 1200 nursing staff and 600 other related healthcare professionals, who are exclusively dedicated to attending over 140,000 patients each year.
The Clinica building offers a total of 75,000m2 floor space. There are 400 beds, 16 operating theatres, one adult and one paediatric ICU as well as a special hospitalisation unit, among other resources.
Specialities
The building is home to 37 medical departments with 16 areas and specialised units, which provide treatment for diverse conditions.
The Oncology Department is made up of the Medical Oncology Service and the Radiotherapy Medical Service, Gene Therapy Unit, Transplant Unit, in collaboration with the Haematology Unit, the Clinical Trials Unit and the Palliative Care and Symptom Control Unit. 2000 patients are treated each year as inpatients with a total of 11,000 annual hospital stays. Outpatients and day hospital services treat walk-in patients, with a total of 18,000 people seen per year.
It is worth mentioning the ongoing cooperation between the hospital's doctors and the Applied Medical Research Centre at the University of Navarre, located just opposite the hospitalisation building. The Oncology Research Unit, the Pharmacogenetics Unit and the Gene Therapy Research Unit frequently work together with professional clinical care staff dedicated to the patients from the Clínica Universidad de Navarra.
Palliative and supportive care
A specific catalogue of procedures has been defined by the Palliative Medicine Team. Intervention begins with a personal interview by the Oncologist attending the patient, with a member of staff from the Palliative Medicine Team, in which the case is presented and intervention possibilities are evaluated. From this moment on, for inpatients, the Palliative Medicine Team carries out an interdisciplinary assessment by doctor, nurse and psycho-oncologist. Once the report has been produced, less than 48 hours are needed to determine the need for palliative care intervention.
Patient care, when the palliative care team is involved, is shared with the Oncology team, which in all cases, has the final responsibility for the patient's overall follow up. Decisions on symptomatic treatments are agreed upon, after consulting the Palliative Medicine Team. The centre Palliative Medicine Team does not have a specific inpatient ward at present and it attends its patients on the Oncology Department's hospital ward. The Palliative Medicine Team offers preferential care for support and training, by informal processes from the Oncology Nursing Team.