ESMO Women 4 Oncology
Most of the next generation oncologists will consist of women: data shows that more and more women enrol in medicine and choose oncology as their profession. Undoubtedly, the increased number of female oncologists will enrich the medical field. However, women are still underrepresented in leadership positions.
As a professional society representing medical oncologists, ESMO is keen to find the right people to lead the organisation towards the future, however women are still underrepresented in leadership positions. We want to know why!
ESMO Women for Oncology Forum
Saturday 28 September 2013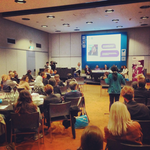 ESMO launched the W4O (Women for Oncology) forum, an initiative to build a network of women in oncology, aiming to promote a dialogue about opportunities and strategic solutions to common problems in the field and to support female oncologists access leadership positions. The Forum participants discussed their significant efforts to achieve career goals and the important ways in which they contribute to the profession. Lack of and need for role models and mentors, flexible career options to allow for better professional/personal balance were some of the requests addressed by the participants to possibly build numbers in leadership positions.
Meet the ESMO W4O Forum panelists
We want to find innovative ways to ensure that we have enough female oncology leaders to care for the rapidly increasing cancer patient population and to work in the best way to address the needs and interests of our highly motivated and qualified members.
Further Information
If you want to know more or discuss more in depth, please do not hesitate to contact us (select Press & Media)