Gustave Roussy Cancer Campus
ESMO Fellowship Host Institute
Contact person
Dr Mahasti Saghatchian, Mr Arnaud Forest
Address
114 rue Edouard Vaillant

94805 Villejuif
Country

France

Contact
Tel: +33 (0)1 42 11 61 59 / +33 (0)1 42 11 66 04 -

Mahasti(dot)SAGHATCHIAN(at)igr(dot)fr

Web
Gustave Roussy Cancer Campus Grand Paris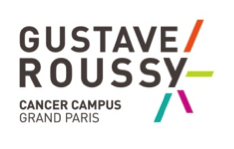 Fellowship Opportunities
Translational Research Fellowship
Clinical Research Fellowship
The Gustave Roussy Cancer Campus hosts fellows in the following areas:
Paediatric
Early Trials in Hematology
Early trials
Genetic Unit
Ambulatory Department
Thyroid surgery unit
Thoracic Oncology
Biostatistics department
Breast Cancer
Gynecology / Oncology Unit
Dermatology Service
To learn more about the Institute, please see here.
Details regarding the departments and opportunities listed above can found in this PDF document.
Training Experience Required
The fellow needs to have at least one year of clinical experience in oncology. For a translational research fellow documented lab experience is needed.
General description
The Institute Gustave-Roussy (IGR), the leading European Cancer Centre, assembles on the same site 2,500 men and women whose missions are to treat patients suffering from cancer, conduct research and develop new therapies, and to pass on knowledge and know-how to the medical and scientific communities in France and world-wide.
Expertise
The first of the IGR's major missions is to treat cancer patients, including diagnosis, treatment and complementary care. This global approach to patients and their families is made possible by the expertise, human skill and material resources appropriate to oncology.
Institut Gustave-Roussy pioneered the multidisciplinary approach to the treatment of cancer. It is an undisputed expert in all the conceptual and technical fields related to cancer. IGR's activity is centred on rapidly transforming progress in basic research into clinical applications for the benefit of patients
Facilities
Treatment: In the 400-bed hospital with its 124 statutory physicians, annually over 11,000 new patients are recruited, 130,000 patients attend its clinics and 42,000 patients receive treatment.
Research: Research is conducted by 400 research scientists under the oversight of a scientific council, a therapeutic trials commission and a clinical research committee.
Teaching: Over 5,000 hours of instruction are taught in its School of Oncology in collaboration with the University of Paris. Each of these three missions is founded on principles that are the guiding force behind IGR's actions daily:
The excellence principle, through which efforts are united to establish quality standards in oncology
The innovation principle, that is urgently needed for many cancers that are still incurable
The evaluation principle, without which it is impossible to advance in a rigorous and methodical manner along the path to new therapies.
Additional Contact
Contact Person: Mr Arnauld Forest, arnauld.FOREST@igr.fr