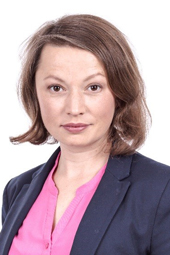 Agata Polińska

Alivia - Fundacja Onkologiczna
Alivia Foundation UK
Agata Polińska is the Vice President of Alivia – Fundacja Onkologiczna based in Warsaw, Poland, and one of the Directors of Alivia Foundation UK, based in London. Both organizations have the mission to educate cancer patients and give them the tools and means to make decisions regarding their own health, based on reliable information. The Polish Foundation was set up in 2010 by Bartosz Poliński, brother of Agata, who was diagnosed with advanced breast cancer in 2007. At the time of the diagnosis, Agata was only 28 years old. Alivia UK was set up a few years later. She is a copywriter, specialist in fields of marketing, communication and advertising, with experience gained in global advertising agencies. Agata is the author of many well recognized and rewarded radio and television advertisements. She graduated at the Faculty of Applied Linguistics and East Slavonic Philology, and Gender Studies at the University of Warsaw.
Last update: June 2019