European Cancer Congress 2013 (ECCO-ESMO-ESTRO)
Amsterdam, Netherlands - 27 Sep
-

01 Oct 2013

The European Cancer Congress 2013 (ECC 2013) was organised by ECCO in partnership with ESTRO, ESMO, ESSO, EACR, EONS and SIOPE. The European Cancer Congress in the main multidisciplinary and multi-professional educational opportunity in oncology to take place in Europe – a fact that underpins the relevance, role and participation of each and every speciality in oncology.
ESMO videos and photographs from ECC 2013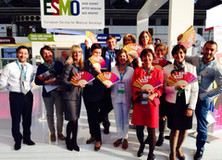 ESMO YouTube Channel
The ESMO on-site film studio produced several videos during the congress. Many of these are already on the ESMO YouTube channel, with more being added.
ESMO on Facebook
We were adding photographs to our Facebook page throughout the congress. Take a look at them here!
Abstracts
Abstracts can be found on the USB key that was distributed in the congress bag. They can also be found on the ECC website.
Educational book
The Educational Book from ECC 2013 is published as a supplement to the European Journal of Cancer. Download the Educational Book.
Questions
Should you have any further questions, please contact ECCO.
Interested in knowing what made the news at the European Cancer Congress 2013? Access all ESMO articles, press comments and ECC press releases here.

There are many good reasons to become an ESMO member. Find out why you should join Europe's leading medical oncology society