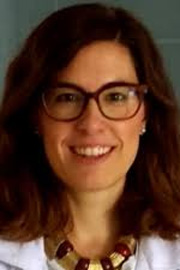 Teresa Alonso Gordoa

Hospital Universitario Ramón y Cajal
(Ramon y Cajal University Hospital)
Madrid
Teresa Alonso Gordoa obtained her medical license at the Universidad de Navarra, Spain in 2008 and graduated as a medical oncologist in 2013 (Hospital Clínico San Carlos, Madrid). She currently works at the Medical Oncology Department of the Hospital Universitario Ramón y Cajal, based in Madrid. She is specialised in the care of patients with genitourinary, germ cell and endocrine tumours. Dr Alonso Gordoa has completed a Masters Degree in Molecular Biology of Cancer and an Expert Title in Immunooncology. She is a member of the Spanish Society of Medical Oncology (SEOM), the Spanish Society of Genitourinary Oncology (SOGUG), the European Society for Medical Oncology (ESMO), the Spanish Group of Neuroendocrine Tumours (GETNE) and a faculty member of the Grupo Germinal (GG). She is a member of the honorary faculty of the University of Alcalá and a reviewer of indexed international journals. She participates actively in clinical trials with international impact and she is conducting biomarker research in kidney cancer and neuroendocrine tumours.
Last update: July 2023