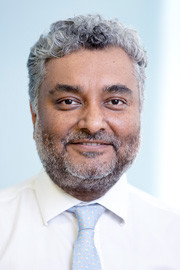 Sanjay Popat

Thoracic Medical Oncology,
The Royal Marsden Hospital
and
The Institute of Cancer Research

Prof. Sanjay Popat qualified in Medicine from the University of London in 1994 with triple distinction, a 1st class BSc in Experimental Pathology, and the Solly undergraduate Medal in Medicine. He went on to  receive his PhD in the field of molecular genetics from the University of London in 2002 and then undertook a post-doctoral fellowship in somatic genomics during his Medical Oncology training. He was appointed Consultant Medical Oncologist to the Royal Marsden Hospital in 2007 and Professor of Thoracic Oncology at the Institute of Cancer Research in 2019.
His research interests include the optimization and implementation of genomics into routine clinical practice and the development of novel therapeutics through clinical trials. He has published over 200 peer-review manuscripts with over 17,000 citations, including influential trial manuscripts in oncogene-addicted NSCLC and mesothelioma leading to global licensing, reimbursement in multiple territories and guidelines adoption. Prof. Popat has regulatory experience as clinical expert with EMA and reimbursement experience as clinical expert to NICE for multiple submissions. Alongside original research, he has led or co-authored multiple ESMO clinical guidelines including the Clinical Practice Guidelines for advanced NSCLC, extensive stage small cell lung cancer, mesothelioma, and most recently, the Expert Consensus Statements on the Management of EGFR mutant NSCLC. He co-authored the BMJ best practice guidelines for NSCLC, and previously the British Thoracic Society Guidelines on the radical treatment of lung cancer.
Prof. Popat has considerable experience in working for National and International Agencies. In the UK, he has Chaired the British Thoracic Oncology Group (BTOG) Steering Committee since 2013 and was recently re-appointed for a third term. He co-chairs the UK NIHR London South Clinical Research Network Cancer Division, and is past Chair of the UK NCRI Lung Group Advanced Disease sub-group and Chair the West London Genomic Medicine Centre/Tumour Advisory Board for Cancer. Internationally, he is active in Europe and globally. He has served for ESMO as Scientific Faculty to, or Chair of Lung Tracks at several ESMO Annual Meetings, ESMO Asia, and other ESMO educational meetings. he is a member of the EORTC Lung Group where he is the Coordinating Investigator for 2 ongoing international studies. He also sits on the ETOP-IBCSG Partners Foundation Council and its Scientific Committee, where he Co-Chairs 4 international trials. He is active in the IASLC, serving as Track Chair or Scientific Faculty for several WCLC Congresses and other IASLC meetings, and serves on their mesothelioma committee.
Prof. Popat  supports patient advocacy, as Honorary Clinical Advisor to ALK positive UK, sitting on the Research Advisory Group to the Ruth Strauss Foundation, the Scientific Advisory Board to Lung Cancer Europe, and the Board of Directors of the Mesothelioma Applied Research Foundation, having previously sat on their Science Advisory Board.
Above all, in 2021, he was proud that his team won the patient-nominated IASLC Cancer Care Team Award, Region Europe.
Last update: May 2022