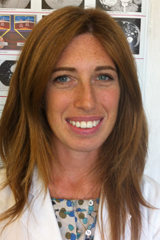 Sabrina Chiara Cecere

Uro-Gynecological Department
National Cancer Institute of Naples
Naples
Sabrina Chiara Cecere was born in Caserta in 1982. She received her MD degree in 2006 and her specialisation in medical oncology in 2011 at the Second University of Naples. Since 2011 she is at the National Cancer Institute of Naples, where she still works as medical researcher and medical oncologist in the Uro-Gynaecological Department. Dr Cecere is member of ESMO,  AIOM and of the Multicenter Italian Trial in Ovarian cancer (MITO) group, that is involved in several randomised trials on treatment of gynaecological cancer, whose results have been published in important international journals. In addition to her clinical activities, Dr Cecere is active in Phase I, II and III clinical trials, her research interests involve drug development and experimental therapeutics.
Last update: August 2014