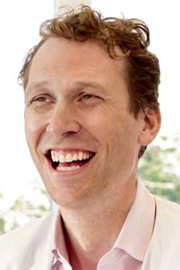 Peter Schmid

Barts Cancer Institute
London
Professor Schmid is internationally recognized for his research and education leadership in breast cancer. He is the clinical director of the Breast Cancer Centre and an honorary consultant medical oncologist at St. Bartholomew's Hospital. He was appointed in 2013 as Chair in Cancer Medicine at Barts Cancer Institute (BCI), Queen Mary University, London. Professor Schmid is also Lead of the Centre of Experimental Cancer Medicine at Barts Cancer Institute, overseeing the conduct of early phase trials at St. Bartholomew's Hospital and BCI, with a particular interest in Immunotherapy, innovative trial designs, and circulating biomarkers. He leads the academic breast cancer programme at St. Bartholomew's Hospital and BCI.
Professor Schmid graduated from the Technical University of Munich medical school in 1997, gaining a MD in Clinical Chemistry in 1998 from the University of Munich and a Clinical Research PhD in 2005 from Charité University in Berlin. He trained at the University Hospital Charité in Berlin in internal medicine, haematology, and oncology, before he became a Senior Clinical Lecturer and Director of the Hammersmith Early Clinical Trials Unit at Imperial College London in 2005. Professor Schmid was appointed as Foundation Chair in Cancer Medicine at the University of Sussex in 2010 before taking on his current role at BCI in 2013.
Professor Schmid's primary research interest is in clinical research in breast cancer with the goal of improving the treatment of women with breast cancer by defining more effective and less toxic approaches. Specific research areas include cancer immune therapy, triple-negative breast cancer, endocrine resistance, and innovative biomarker-driven trial concepts. Professor Schmid runs an international collaborative clinical and translational research programme.
Professor Schmid is the principal investigator of several pivotal breast cancer studies, including the Impassion130 trial that evaluated atezolizumab for advanced triple-negative breast cancer and led to the regulatory approval of the first immunotherapy strategy for patients with breast cancer, establishing a new standard of care of this disease. Professor Schmid is also the lead investigator of the KEYNOTE-522 trial which evaluated the immune-checkpoint inhibitor Pembrolizumab in combination with neoadjuvant chemotherapy for early triple-negative breast cancer and demonstrated a significant increase in pathological response rates. His work has been published in many journals including the New England Journal of Medicine, Lancet, Lancet Oncology, JAMA Oncology, Nature Communications and the Journal of Clinical Oncology.
Professor Schmid is a member of several national and international cancer organisations and research groups and has been involved in international consensus meetings on the management of breast cancer. Professor Peter Schmid is a member of the European Society for Medical Oncology (ESMO) breast cancer faculty.
Last update: October 2021