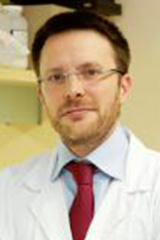 Jordi Rodón

MD Anderson Cancer Center
Houston, TX

Jordi Rodón did his specialisation in Medical Oncology at the Catalan Institute of Oncology (Institut Català d'Oncologia).
Rodón was Research fellow at the Advanced Drug Development Fellowship programme at the Institute For Drug Development in San Antonio, Texas, and Senior Research fellow at the Investigational Cancer Therapeutics Department at MD Anderson Cancer Center in Houston, Texas. 
Rodón joined the Medical Oncology Department at Vall d'Hebron University Hospital in 2008 and has been principal investigator or co-investigator in more than 80 phase I trials.
At Vall d'Hebron, Jordi Rodón coordinated the phase I programme and the clinical research at UITM, which is focused in complex clinical trials with drugs in early development (phase I and early phase II trials) focused in novel targets. He also collaborated with the Molecular Pathology and the Genomics labs to perform molecular analysis of the patients tumor in order to select the best possible treatment with the available experimental treatments, in a step towards personalised medicine.
He is now at MD Anderson's Investigational Cancer Therapeutics department after moving from Barcelona.
In the area of personalised/precision Medicine, Jordi Rodón works at the therapeutic level (designing and implementing trials such as WINTHER, a pilot study in personalised medicine, and Basket of Baskets, a molecular navigator trial sponsored by Cancer Core Europe), diagnostic level (by implementing the VHIO Molecular Prescreening Program, and serving as Associate Medical Director of the Institute for Personalised Cancer Therapy at The University of Texas MD Anderson Cancer Center), and  data analytics (collaborated with companies such as Thomson Reuters/Clarivariate analytics, and CollabRX).
Over the course of his career, Rodón has been the principal or co-principal investigator of many early phase clinical trials and precision medicine trials. He has contributed to about 90 peer-reviewed publications detailing both trial results and basic research findings.
Dr. Rodón's most significant contributions to the field include the development of PI3K, FGFR and TGFbeta inhibitors, pilot studies in precision/personalised cancer medicine and multiple translational collaborations in those fields. 
Last update: January 2018