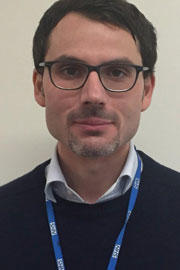 Francesco Sclafani

Gastrointestinal Unit
Institut Jules Bordet
Brussels
Dr Francesco Sclafani is a Consultant Medical Oncologist at the Institut Jules Bordet in Brussels, Belgium. He is specialised in the treatment of patients with gastrointestinal cancers. He graduated from the University of Palermo in 2003 and completed his specialist Medical Oncology training at the University of Milan in 2009. He worked at the St Vincent's University Hospital in Dublin (2010-2012) and in the Gastrointestinal Unit at The Royal Marsden NHS Foundation Trust in London (2012-2018). He was awarded an MD(Res) degree and the Chairman's prize for Outstanding Graduating MD(Res) Student at the University of London – Institute of Cancer Research in 2018. He is investigator of several phase I-IV clinical trials in gastrointestinal cancers and has published over 60 peer-reviewed articles and book chapters. He is an active member of international cooperative groups such as the EORTC Gastrointestinal Tumour Study Group and the International Rare Cancer Initiative Anal Cancer Working Subgroup. He is member of the ESMO Gastrointestinal Faculty Group and co-Chair of the EORTC Colon Cancer Task Force.
Last update: December 2019