Tanja Cufer
Address
Medical Faculty
University of Ljubljana

Country

Slovenia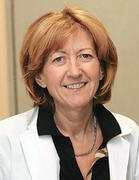 Tanja Cufer, MD, PhD is a medical oncologist, Professor of Oncology at Medical Faculty, University of Ljubljana, Slovenia and Senior Councilor at the University Clinic Golnik, Slovenia. Dr. Cufer gained her medical degree and PhD in oncology from the University of Ljubljana. Afterwards she completed her fellowship at the Stanford University and at The Netherlands Cancer Institute in Amsterdam.
Dr. Cufer`s major scientific interest are breast cancer, lung cancer, and molecular biology of cancer. She plays an active role in new drug development and she has been principal investigator in more than 20 multi-national clinical trials. She is very active in academic research in oncology. Her fruitful professional work resulted in almost 20 invited lectures at most prestigious oncology conferences as welll as in more than 200 articles, books and book chapters in the field of oncology. She is also a member of several editorial boards and a reviewer for numerous international medical journals.
Dr. Cufer is very active in various national and international societies. In 2011 Dr. Cufer received a life achievement award from the Medical Chamber of Slovenia. She is ASCO member since 1996. From 2007 on she was serving as ASCO International Affairs Committee (IAC) member, and she was the chair of ASCO IAC in period 2011-2012. She was also a chair of ASCO ICTW working group. From 1987 she is an active member of the EORTC Breast Cancer Group and Lung Cancer Group; from 2009-2012 she was chairing the EORTC Breast Cancer Group. In the period 2006-2009 she served as the member of the EORTC Board. Currently, Dr. Cufer is ESO (European School of Oncology) program coordinator for the Eastern Europe and Balkan region.