Stergios Boussios
Address
Department of Oncology, School of Medicine
University of Ioannina
Country

Greece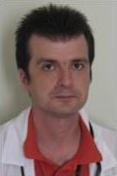 Born in 1976 in Ioannina, Greece, Stergios Boussios, MD, graduated from the School of Medicine of the University of Sofia, Bulgaria in 2002.
He has been a Resident in Medical Oncology at the University of Ioannina since July 2010. He is a doctoral candidate at the Faculty of Medicine of the University of Ioannina, focusing on the "Research on Circulating Cancer Cells and cancer cells with blastic phenotype and epithelial mesenchymal transition in peripheral blood and bone marrow of patients with Carcinomas of Unknown Primary site".
Dr Boussios is also Sub-investigator on the protocol I4T-MC-JVBB(C) phase 3 study of irinotecan, folinic acid and 5-fluorouracil (FOLFIRI) plus ramucirumab or placebo in patients with metastatic colorectal carcinoma, progressive during or following first line combination therapy with bevacizumab, oxaliplatin and a flyoropirimidine.
Dr Boussios participated in the "11th ESO-ESMO Masterclass in Clinical Oncology" in Ermatingen, Switzerland – 17/22 March 2012.
His main interests lie in the fields of GI cancer, cancer of unknown primary site and cancer and pregnancy.