Raffaele Califano
| | |
| --- | --- |
| Address | The Christie NHS Foundation Trust and University Hospital of South Manchester NHS Foundation Trust |
| Country | United Kingdom |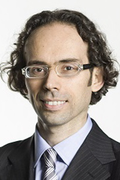 Dr Raffaele Califano is Consultant in Medical Oncology at The Christie and University Hospital of South Manchester, Manchester, UK. He graduated in Medicine and Surgery from the University of Perugia, Italy, in 2003, and completed his specialist training in Medical Oncology, in 2007. Previously, Raffaele Califano worked as a Clinical Research Fellow with the lung and melanoma team at The Christie (2008–2012) where he trained in advanced trial design and management, and was an investigator for several lung cancer and melanoma clinical trials.
Raffaele Califano specialises in the treatment of thoracic malignancies, including non-small cell lung cancer, small cell lung cancer, thymoma, thymic carcinoma and mesothelioma. He serves as Chairman of the Educational Publications Working Group of the European Society for Medical Oncology (ESMO) and is also a member of the ESMO Educational Committee Steering Group.
Raffaele Califano is author of several papers published in peer-reviewed international journals and has been an invited speaker at several national and international meetings. Dr Califano is a member of the Editorial Board of ESMO Open: Cancer Horizons, the European Journal of Cancer, Cancer Treatment Reviews and Cancer Treatment Communications, and is also peer reviewer for a number of medical journals.