Mariano Provencio Pulla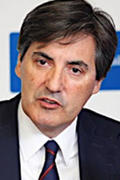 Professor Mariano Provencio graduated in Medicine and Surgery in 1986 from the University Alcalá de Madrid, and gained his doctorate cum laude from the same university in 1997.
He specialised as a resident physician in Medical Oncology in the Hospital Universitario Puerta de Hierro, in Madrid. His background was completed in 1995 when he was awarded the European Certificate in Medical Oncology in Paris. He later spent time at the Memorial Sloan-Kettering Cancer Center, New York in 2003, at MD Anderson, Houston in 2006 and 2012, and at the Lee Moffit Cancer Center, Tampa, in 2009. After finishing his residency, he joined the Medical Oncology Service in Puerta de Hierro Hospital in Madrid.
In 2011 he was appointed Head of the Medical Oncology Department in Puerta de Hierro University Hospital Majadahonda, Madrid, and became the Director of the Puerta de Hierro Research Institute. He is a Full Professor in the Autonomous University of Madrid.
He has authored or co-authored approximately 220 peer-reviewed papers, as well as several book chapters. Since 2014, Professor Provencio has been President of the Spanish Lung Cancer Group.
He is also a national leader in the field of lymphomas and, since 2007, has been President of the Spanish cooperative group in Lymphoma (GOTEL).
He serves in the European Society of Medical Oncology (ESMO) as a member of the Educational Publications Working Group.