Giuseppe Curigliano
Address
European Institute of Oncology
Division of Early Drug Development
Milan
Country

Italy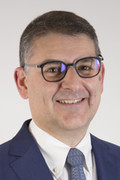 Giuseppe Curigliano, MD PhD, is an ESMO Member. He is Associate Professor of Medical Oncology at University of Milano and the Head of the Division of Early Drug Development at European Institute of Oncology, Italy. He is a clinician and researcher specializing in early drug development for patients with solid tumors with a special commitment on breast cancer. He is an ESMO Breast Faculty Member since 2001 and served on the Program Scientific Committee of the St Gallen Conference since 2011, and as Scientific Chair in St Gallen 2017. He has been appointed as Editor of Annals of Oncology for the period 2014-2018 and 2018-2020, and serves as Co-Editor in Chief of The Breast, Co-Editor in Chief of Cancer Treatment Reviews, Associate Editor of the European Journal of Cancer, editor of the Journal of Clinical Oncology. He also serves on the European School of Oncology (ESO) faculty committee.
Dr Curigliano serves ESMO as a member of the ESMO Press & Media Affairs Committee, the ESMO Women for Oncology Committee since 2016, the ESMO Membership and ESMO Global Policy Committees since 2016.
He has been elected as member of the ESMO Nominating Committee in 2017.
He served as the scientific chair of the IMPAKT meeting that was held in Brussels in 2014 and as the Breast Cancer (metastatic) Track Chair of the ESMO 2014 meeting in Madrid. He will Co-Chair the first ESMO Breast Cancer Congress in 2019.
He has been awarded with the first ESO Umberto Veronesi Award in Vienna in 2017 and with the Fellowship of the European Academy of Cancer Sciences in Paris in 2017.
He has contributed to over 290 peer-reviewed publications.