George Pentheroudakis
Function
ESMO Executive Board
Guidelines Committee

Term
2016 – 2017
Address
Medical Oncology Department
Ioannina University Hospital
Ioannina
Country

Greece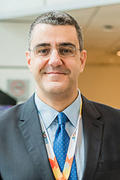 George Pentheroudakis holds an MD degree from the Aristotle University of Thessaloniki and a PhD degree from the University of Ioannina, Greece. He specialised in Internal Medicine in Thessaloniki, Greece (1993-1999), subsequently held a National Training Number in Medical Oncology at the Beatson Oncology Centre, Glasgow, United Kingdom (1999-2002). He currently serves as Associate Professor of Oncology at the Medical School, University of Ioannina, Greece, where he is the Head of the Clinical Trials Unit at the Medical Oncology Department. He also serves as Scientific Committee Chair of the Hellenic Cooperative Oncology Group (HeCOG), and Coordinator of the HeCOG Gastrointestinal Working Group.
He is actively involved in translational research and phase I-II studies evaluating novel agents targeting membrane receptors, cell signalling pathways, immune response and angiogenesis. HeCOG, the group he participates in, is active in the development of therapeutic approaches with the purpose of developing personalised therapies and predictive biomarkers, essentially by running a large annotated tissue bank and a greek clinical trial network of 15 centers. His main research interests are gastrointestinal cancer, cancer of unknown primary, neuroendocrine tumours and pharmacokinetic studies in phase I trials of new antineoplastic compounds.
Dr. Pentheroudakis served as co chair (2012-2014) and currently as Chair of the ESMO Guidelines Committee and is a member of the Executive Board of the European Society for Medical Oncology (ESMO, 2016-2017) and the ESMO CUP and Endocrine Tumour Faculty.
He is also member of the American Society of Clinical Oncology (ASCO) and is actively involved in different editorial boards including Cancers, Cancer Treatment Communications, EJSO - European Journal of Surgical Oncology, Rare Cancers and Therapy. He has (co)authored 190 PubMed-indexed peer-reviewed papers and speaks English, French and Italian.