Alex A Adjei
Address
Mayo Clinic
Rochester, MN
Country

United States of America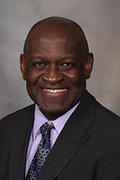 Alex A. Adjei is Consultant in Medical Oncology at Mayo Clinic and Professor of Oncology in the Mayo College of Medicine. Dr Adjei is Director of the Early Cancer Therapeutics Program across all three Mayo Clinic sites, and is also director of Global Oncology.
He is the Principal Investigator of the Mayo Phase I and Phase II NCI grants.
Dr Adjei has served on a number of National Cancer Institute Committees.
He was Vice-Chair of the North Central Cancer Treatment Group and Lung Cancer Committee Chair. He is currently co-chair of the Thoracic Malignancies Steering Committee, and is a member of Subcommittee A (reviewing cancer centers) of the National Cancer Institute.
He is the Editor-in-Chief of the Journal of Thoracic Oncology.
Dr Adjei's research is focused on experimental therapeutics and clinical drug development.
He received the first ASCO Drug Development Research Professorship 2012-2017, in recognition of his mentorship and his work in cancer drug development.
He has authored 245 publications dealing primarily with preclinical pharmacology and phase I trials as well as novel therapeutics/phase II trials of lung cancer.