Pasi Jänne Receives ESMO Translational Research Award [ESMO Press Release]
LUGANO, Switzerland – The European Society for Medical Oncology (ESMO) has chosen Pasi A. Jänne to receive the ESMO Translational Research Award for changing the treatment paradigm of lung cancer.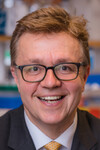 Jänne's research combines laboratory-based studies with translational research and clinical trials of novel therapeutic agents in patients with lung cancer. His main research interests centre on understanding and translating the therapeutic importance of oncogenic alterations in lung cancer.
On behalf of the ESMO Fellowship and Award Committee, Chair Evandro de Azambuja said: "Jänne's investigations made him one of the co-discoverers of EGFR mutations, which changed the treatment paradigm of lung cancer and, subsequently, to the approval of the selective EGFR inhibitor osimertinib. Cancer research can only evolve with people like Jänne."
"I am both thrilled and honoured to be receiving this prestigious award from ESMO," said Jänne. "I have had the pleasure to work with an amazing group of collaborators and colleagues and the privilege to treat and study patients with lung cancer. Without them it would not have been possible to bring our laboratory observations to the clinic and to evaluate their impact on the outcome of lung cancer patients."
Jänne is Director of the Lowe Center for Thoracic Oncology and Director of the Belfer Center for Applied Cancer Science at the Dana-Farber Cancer Institute. He is also a Professor of Medicine at Harvard Medical School.
"This award provides both inspiration and energy to continue our quest to develop new and novel therapeutic approaches in our fight against lung cancer. Furthermore, it is a recognition that studying precision therapies in lung cancer can impact and inform analogous approaches across other cancers," Jänne said.
The ESMO Translational Research Award commends scientists who are internationally recognised for their outstanding achievements in translational research.
Notes to Editors
The ESMO Translational Research Award will be presented to Pasi A. Jänne during the opening session of the ESMO 2018 Congress, on 19 October 2018, 11:50-13:30 (CEST) in Hall A2 – Room 18 of the Messe Munich.
Info on all ESMO awards is available here.
About the European Society for Medical Oncology (ESMO)
ESMO is the leading professional organisation for medical oncology. With 18,000 members representing oncology professionals from over 150 countries worldwide, ESMO is the society of reference for oncology education and information. ESMO is committed to offer the best care to people with cancer, through fostering integrated cancer care, supporting oncologists in their professional development, and advocating for sustainable cancer care worldwide.