ESMO Press Release: ESMO Lifetime Achievement Award Recognises Peter Boyle
The European Society for Medical Oncology (ESMO) has announced the winner of this year's ESMO Lifetime Achievement Award as Peter Boyle from the UK, for his long-standing contribution to cancer epidemiology, education and prevention. This prestigious award was established in 2006 to recognise international research teams or individuals with demonstrated commitment to cancer research and treatment. It will be presented at the ESMO 2014 Congress, held 26-30 in Madrid, Spain.1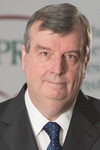 Peter Boyle became the first non-medical oncologist elected to full membership of ESMO in 2006. He is currently Professor of Global Public Health at the University of Strathclyde and holds Honorary or Visiting Professorships at Glasgow and Yale Universities. Boyle is founder and President of the World Prevention Alliance and inaugural Director of the University of Strathclyde Institute of Global Public Health at iPRI, located in Lyon, France and Glasgow, Scotland.
Peter Boyle is internationally known for his research in epidemiology and disease prevention. He led the EUROCAN+PLUS project for the European Parliament which developed priorities for coordination of cancer research in Europe and was Editor of the World Cancer Report 2008 and the State of Oncology 2013 which highlighted the growing global cancer crisis. Previous appointments include Director of the International Agency for Research on Cancer (IARC/WHO), President of the International Prevention Research Institute in Lyon and epidemiology posts in Milan and Boston.
On receiving the ESMO Lifetime Achievement Award, Boyle said: "First, I was surprised. Then, I was delighted. Now I am honoured, both for myself and for my discipline of epidemiology and prevention. To be recognised for my contributions to oncology motivates me to redouble my efforts."
Boyle was a Member of the European Cancer Advisory Board and worked as scientific advisor to the European Commission on the European Tobacco Contents Directive which became law in 2012. He was also responsible for the revisions of the European Code Against Cancer.
Boyle said: "I have had the privilege to work with and be inspired by some outstanding persons. Umberto Veronesi has been an inspirational figure and friend and colleague for many years. Marvin Zelen, Brian MacMahon, John Cairns, Louis Denis and Calum Muir have all contributed greatly both to my career and to cancer control. Lastly, I owe a great deal to David Silvey, Charles Gillis and Harry Burns who have always been there when I needed them."
Josep Tabernero, Chair of the ESMO Fellowship and Award Committee, in charge of continuously identifying international researchers and clinicians worthy of recognition, said: "Peter Boyle is not only the international reference in mastering cancer statistics to enable all stakeholders to consider, balance and address the realities concerning the state of cancer at global, national and regional levels; he is in fact one of the few to do so with unquestionable authority and heart – in equal measure. A global reference in cancer education and prevention, his exceptional expertise is continuously called upon by policy makers, scientific societies, academies, foundations, and patient advocacy groups."
Boyle said: "Having spent my entire career in the international environment, I have been exposed to the challenges facing oncology worldwide. Unfortunately, while great progress has been achieved in high resource countries, lower resource regions of the world are dramatically forgotten; they need urgent, collective action. Simply, if I could use this award for just one thing, it would be to draw attention to this disparity and address it with conclusive action. Fortunately, this award demonstrates the breadth of disciplines engaged in the global cancer control movement; hopefully all will participate in the effort."
Tabernero said: "Peter's dedication, his ability to engage us all in ultimately reversing the many disparities that exist in access to optimal cancer treatment and care across borders, make him so particularly deserving of this award."
-END-
Notes to Editors
1The ESMO Lifetime Achievement Award will be presented to Peter Boyle during the ESMO 2014 Opening Session, Friday 26 September 2014, 12:00 – 14:00, Room Madrid.
ESMO Lifetime Achievement Award lecture title: 'A lifetime in Paradise'
Information on all ESMO awards is available at www.esmo.org/Career-Development/Awards
About the European Society for Medical Oncology
The European Society for Medical Oncology (ESMO) is the leading European professional organisation committed to advancing the specialty of medical oncology and promoting a multidisciplinary approach to cancer treatment and care.
ESMO's mission is to advance cancer care and cure through fostering and disseminating good science that leads to better medicine and determines best practice.
ESMO's scientific journal, Annals of Oncology, ranks among the top clinical oncology journals worldwide. ESMO events are the meeting place in Europe for medical oncologists to update their knowledge, to network and to exchange ideas.