ESMO Press Release: ESMO Declares Cornelis Punt Winner of Hamilton Fairley Award
Lugano, Switzerland -- The European Society for Medical Oncology (ESMO) has announced the winner of this year's Hamilton Fairley Award as Cornelis (Kees) Punt from the Netherlands. The award will be presented at the European Cancer Congress 2015, held 25-29 September in Vienna, Austria.1
The Hamilton Fairley Award was established in 1998 to commemorate one of the founding fathers of medical oncology in Europe. It is presented to medical oncologists who are internationally recognised for their achievements in cancer science and clinical / laboratory research.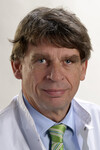 Punt is a world leader in the field of gastrointestinal cancer. He was also a pioneer in the translation of immunotherapy approaches from the laboratory to the clinic, and has made a significant contribution to the development of dendritic cell vaccination. He is internationally known as the designer and principal investigator of the Dutch Colorectal Cancer Group (DCCG) phase 3 CAIRO studies in metastatic colorectal cancer (mCRC) which aim to provide answers to clinically relevant questions.
"I am very honoured to have been selected for this prestigious ESMO award," said Punt, who is professor in Medical Oncology and chairman of the Department of Medical Oncology at the Academic Medical Centre (AMC) in Amsterdam, the Netherlands, since 2011, after a career of many years at the Radboud UMC Nijmegen. "Given the line of my research, I consider this award as recognition of the great value of investigator-initiated clinical and translational research."
The first CAIRO study established sequential chemotherapy as an alternative to combination chemotherapy in patients with unresectable mCRC. CAIRO-2 was a landmark study which showed that, despite promising earlier preclinical and early clinical data, the combination of anti-VEGF and anti-EGFR antibodies had a detrimental effect on outcome in mCRC. CAIRO-3 provided the most convincing evidence to date on the benefit of maintenance therapy in mCRC without compromising quality of life. The results of these studies have been published in NEJM and Lancet and have contributed to the international standard of care for mCRC.
On behalf of the ESMO Fellowship and Award Committee, Christoph Zielinski said: "Prof Punt is a leader in European contributions to the field of colorectal cancer. He has played decisive roles in the generation of important advances in the field leading to an amelioration of the prognosis and disease course of patients with this particular group of diseases."
Punt is highly respected for involving other disciplines in his research, sharing his data with others, and creating a network including approximately 80% of Dutch hospitals. He is currently conducting CAIRO-4 and CAIRO-5 which, in common with the previous CAIRO studies, are addressing issues that are highly relevant for clinical practice and will provide a wealth of clinical and translational research data.
Punt established the European Multidisciplinary Congress of Colorectal Cancer (EMCCC), which has become an internationally highly respected multidisciplinary meeting for oncology professionals. He was chairman of the Colorectal Cancer Track of ECC 2009.
Punt has been an active ESMO member for more than 25 years and has been chairman of the ESMO Publications Committee, a member of the ESMO Educational Committee's Faculty groups on Gastro-Intestinal Tumours; Melanoma; Tumours Immunology and Immunotherapy. He was an associate editor of ESMO's scientific journal, Annals of Oncology, from 1999 to 2014.
Acknowledging the contribution of others, Punt said: "I sincerely thank my colleagues from the Tumour Immunology Laboratory at the Radboud UMC Nijmegen, my colleagues from various departments at the AMC in Amsterdam, and the collaboration with the network of the Dutch Colorectal Cancer Group (DCCG), who have all been key to the success of many research projects."
Zielinski concluded: "ESMO is proud to have important leaders in the field of oncology within its ranks and recognises this by presenting one of its highest accolades to Prof Punt."
Notes to Editors
The Hamilton Fairley Award will be presented to Cornelis Punt during the Presidential II Session on Sunday 27 September 2015 from 14:45 to 16:45 in Hall D1. Prof Punt will give a scientific lecture on his area of expertise during this session.
Info on all ESMO awards is available at www.esmo.org/Career-Development/Awards
About the European Society for Medical Oncology
The European Society for Medical Oncology (ESMO) is the leading European professional organisation committed to advancing the specialty of medical oncology and promoting a multidisciplinary approach to cancer treatment and care.
ESMO's mission is to advance cancer care and cure through fostering and disseminating good science that leads to better medicine and determines best practice.
ESMO's scientific journal, Annals of Oncology, ranks among the top clinical oncology journals worldwide. ESMO events are the meeting place in Europe for medical oncologists to update their knowledge, to network and to exchange ideas.