ESMO Award honours Jean-Charles Soria [ESMO Press Release]
LUGANO, Switzerland – The European Society for Medical Oncology (ESMO) has bestowed the ESMO Award 2018 on Jean-Charles Soria,an international lung cancer expert and a pioneer in the development of anti-cancer drugs.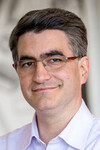 His relentless interest in research has been focused mainly on early clinical development, pharmacodynamic biomarkers, lung cancer management and personalised medicine. Soria has been involved in translational research related to precision medicine and tumour progression, notably in lung cancer models, and has led multiple precision medicine trials. Earlier this year he received the Targeted Anticancer Therapies (TAT) Honorary Award for cancer drug development.
"This is truly an immense honour, a very clear recognition by the international community of the quality of my clinical and translational work. Receiving this award while being only 47 years old is really very special," Soria said. "I have been an ESMO member since 1996 and I have always been deeply attached to the Society. To receive such a visible award from it is an enormous sign of encouragement for me," he added.
ESMO Fellowship and Award Committee Chair Evandro de Azambuja said: "Soria has been a true leader to the medical oncology community. He has been an inspiration for the young generation with his great lectures and as Editor-in-Chief of Annals of Oncology ensured that ESMO's journal was 'among the best oncology journals'."
Soria was Editor-in-Chief of ESMO's flagship scientific journal Annals of Oncology from 2014 to 2017. Under his leadership the journal reached an impact factor of 13.926.
Soria is a Full Professor of Medicine and Medical Oncology, University of Paris-Sud since 2006. From 2013 to 2017 he was Head of the Drug Development Department (DITEP), Gustave Roussy, Villejuif, France and Adjunct Professor, MD Anderson Cancer Centre, Houston, US. He is currently Senior Vice President and Head of the Oncology Innovative Medicines Unit at MedImmune, US.
Soria said: "I want to mention with deep emotion my mentor Professor Thomas Tursz, recipient of the ESMO Award for Translational Research in 1998, who died suddenly this year and contributed greatly to who I am as a professional."
The ESMO Award was founded in 1985 to acknowledge an ESMO member who has made outstanding contributions to the development of medical oncology as a specialty within the oncology community.
Notes to Editors
The ESMO Award will be presented to Jean-Charles Soria during the opening session of the ESMO 2018 Congress, on 19 October 2018, 11:50-13:30 (CEST) in Hall A2 – Room 18 of the Messe Munich.
Info on all ESMO awards is available here.
About the European Society for Medical Oncology (ESMO)
ESMO is the leading professional organisation for medical oncology. With 18,000 members representing oncology professionals from over 150 countries worldwide, ESMO is the society of reference for oncology education and information. ESMO is committed to offer the best care to people with cancer, through fostering integrated cancer care, supporting oncologists in their professional development, and advocating for sustainable cancer care worldwide.