ESMO Press Release: ESMO Award Goes to Nathan Cherny
Lugano, Switzerland -- The European Society for Medical Oncology (ESMO) has announced this year's ESMO Award recipient as Nathan Cherny, a founder of the ESMO Palliative Care Working Group who has played a key role in introducing palliative care into the medical oncology curriculum. The award will be presented at the European Cancer Congress 2015, held 25-29 September in Vienna, Austria.1
The acclaimed ESMO Award was established in 1985 to annually recognise an ESMO member who has made an outstanding contribution to the development of medical oncology and who understands the importance of promoting medical oncology as a specialty within the international community.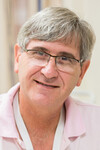 Cherny helped to establish the ESMO Palliative Care Working Group in 1999, which he chaired from 2008 to 2013. He led the ESMO initiative to develop policies on the role of the oncologist in palliative care, oncology training for medical oncologists and minimal standards for palliative care in cancer centres. He was instrumental in setting up the ESMO Designated Centres of Integrated Oncology and Palliative Care programme in 2003, the premier initiative worldwide for providing a structured model to develop integrated programmes in oncology and palliative care.
Cherny spearheaded the European and Global Opioid Policy Initiatives on formulary availability and regulatory barriers to access to opioids for cancer pain which were published in Annals of Oncology2 in 2010 and 2013, respectively. The global survey produced the first data of its kind for regions throughout the world and positioned ESMO as an international leader in palliative care.
Most recently, Cherny formulated the idea to develop a scale to evaluate the magnitude of clinical benefit of cancer medicines and served as a member of the ESMO Magnitude of Clinical Benefit Scale Task Force whose work culminated in an acclaimed publication in May 20153.
"ESMO gave me a chance to help make a difference, and together I think that we have made an impact on the culture of cancer care and the manner in which it is delivered in Europe and beyond," said Cherny. "For that opportunity and support, I am overwhelmingly and forever grateful."
Christoph Zielinski, Chair of the ESMO Fellowship and Award Committee, said: "Nathan Cherny has contributed impressively to the visionary integration of palliative care into clinical oncology which has proved to be highly beneficial to patients with cancer ever since. He has gained an important position within ESMO by pursuing access to modern anticancer drugs in oncology in areas of restricted financial means, and has been crucial in the shaping and generation of the ESMO Magnitude of Clinical Benefit Scale which has impressively furthered ESMO's stance in this important field."
Cherny was born and brought up in Melbourne, Australia. He established the undergraduate training programme in palliative care at Monash University while completing his fellowship of the Royal Australian College of Physicians with specialist recognition in oncology and palliative medicine. Together with Raphael Catane he set up the Oncology and Palliative Medicine Unit at the Shaare Zedek Hospital in Jerusalem in Israel where he continues to head the Cancer Pain and Palliative Medicine Service.
In 2007 Cherny was appointed to the Norman Levan Chair of Humanistic Medicine at Shaare Zedek Medical Centre and in 2008 became associate professor in medicine at the Ben Gurion University of the Negev. He has served on the research steering committee of the European Association of Palliative Care since 1997-2005, and is the senior editor of the Oxford Textbook of Palliative Medicine.
Cherny is one of the lead coordinators of the ESMO European Consortium Study launched in April 2014 which aims to provide data on the availability of licensed anti-neoplastic medicines in Europe. Another brainchild of Cherny's for which he is editorial director is the ESMO booklet, 'A guide for patients with advanced cancer – Getting the most out of your oncologist' which was produced in 2011 and is now available in ten languages.
Commenting on the importance of the ESMO Award, Cherny said: "This award acknowledges that ESMO prioritises the promotion of care, the relief of suffering and distress as a central part of the oncological endeavour, the importance of healthy scepticism and scientific curiosity and the critical importance of professionalism and professional integrity. That ESMO and the oncology community value these things as much as I is truly and deeply gratifying."
"I wish to dedicate this award to the promotion of care, the pursuit of peace and understanding between peoples, and the ongoing challenge for making the best possible care available and affordable to all," said Cherny.
Zielinski concluded: "Dr Cherny is highly respected, recognised and acknowledged by ESMO due to his important and visionary contributions ranging from community based medicine to issues of international importance translatable to the access of modern drugs for the individual patient."
Notes to Editors
The ESMO Award will be presented to Nathan Cherny during the ESMO Society Session on Monday 28 September 2015 at 16:45 to 18:45 in Hall A5.
Published in Annals of Oncology:
Info on all ESMO awards is available at www.esmo.org/Career-Development/Awards
About the European Society for Medical Oncology
The European Society for Medical Oncology (ESMO) is the leading European professional organisation committed to advancing the specialty of medical oncology and promoting a multidisciplinary approach to cancer treatment and care.
ESMO's mission is to advance cancer care and cure through fostering and disseminating good science that leads to better medicine and determines best practice.
ESMO's scientific journal, Annals of Oncology, ranks among the top clinical oncology journals worldwide. ESMO events are the meeting place in Europe for medical oncologists to update their knowledge, to network and to exchange ideas.