ESMO Press Release: ESMO Award goes to Carsten Bokemeyer
The European Society for Medical Oncology (ESMO) has announced this year's ESMO Award recipient as Carsten Bokemeyer, a physician and researcher in Germany with previous professorships in the Netherlands and the USA. The award will be presented at the ESMO 2014 Congress, held 26-30 September in Madrid, Spain.1
The acclaimed ESMO Award was established in 1985 to annually recognise an ESMO member who has made an outstanding contribution to the development of medical oncology and who understands the importance of promoting medical oncology as a specialty within the international community.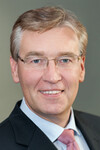 Carsten Bokemeyer currently serves on the ESMO Faculty on gastrointestinal cancers as well as on supportive and palliative care. He is a founding member of the international education initiative Molecular Targeted Therapy of Cancer and a past Chair of the ESMO Examination Committee. Bokemeyer is on the editorial board of Annals of Oncology, is a member of several national and international guidelines groups, and was a scientific committee member for the ESMO and ASCO congresses during 2011-2013.
Carsten Bokemeyer is a world leader in the pathogenesis and biology of malignant germ cell tumours. His discoveries include identifying the early stages of malignant germ cell transformation and the mechanisms of resistance of germ cell tumours to chemotherapy. He has also developed new therapeutic concepts with cytostatic drugs and immunotherapy in solid tumours. Currently Director of the University Cancer Center Hamburg, one of Germany's designated centres of excellence in oncology, Bokemeyer has been Visiting Research Professor at the Erasmus University in Rotterdam, the Netherlands, and Visiting Professor at the Memorial Sloan-Kettering Cancer Center in New York, USA.
Carsten Bokemeyer said: "It is truly a great honour for me to receive the ESMO Award. I feel at home in this society which has been for me the leader for many structural, educational and scientific developments in oncology throughout Europe for many years. I have had the privilege to work together with many talented and dedicated colleagues and I feel the award acknowledges our common achievements in education and research in the field of medical oncology."
Josep Tabernero, Chair of the ESMO Fellowship and Award Committee, in charge of continuously identifying international researchers and clinicians worthy of recognition, said: "Carsten Bokemeyer is undeniably a thought leader within the medical oncology field. He has also succeeded in elegantly integrating and connecting physician-researcher duality. Such committed efforts have accelerated the transition of cancer discovery into real benefit at patient level."
Bokemeyer's other current appointments include elected spokesman of the clinical departments and institutes at the University Hospital Hamburg. He has been Professor for Internal Medicine and Director of the Department of Internal Medicine II at the University Medical Center Hamburg-Eppendorf since 2005.
"Being recognised by such an important award always means there were many good teachers, role models and important co-workers who have contributed to my role in oncology. I would like to cordially thank them at this moment," Bokemeyer said.
Tabernero concluded: "Carsten Bokemeyer has selflessly volunteered his invaluable time as past Chair of ESMO's Examination Working Group, which undoubtedly contributed to the timely recognition of our specialty throughout the world. Currently serving on the ESMO Faculty, his expertise and guidance are further called upon to advise on pain management and improved quality of life for our cancer patients facing the severity of this disease.
-END-
Notes to Editors
1The ESMO Award will be presented to Carsten Bokemeyer during the ESMO 2014 Opening Session, Friday 26 September 2014, 12:00 – 14:00, Room Madrid.
ESMO Award lecture title: 'Advances in the treatment of metastatic germ cell cancer and colorectal cancer in recent years'
Info on all ESMO awards is available at www.esmo.org/Career-Development/Awards
About the European Society for Medical Oncology
The European Society for Medical Oncology (ESMO) is the leading European professional organisation committed to advancing the specialty of medical oncology and promoting a multidisciplinary approach to cancer treatment and care.
ESMO's mission is to advance cancer care and cure through fostering and disseminating good science that leads to better medicine and determines best practice.
ESMO's scientific journal, Annals of Oncology, ranks among the top clinical oncology journals worldwide. ESMO events are the meeting place in Europe for medical oncologists to update their knowledge, to network and to exchange ideas.