ESMO Press Release: ESMO Announces Hamilton Fairley Award Recipient as Heikki Joensuu
The European Society for Medical Oncology (ESMO) has announced the winner of this year's Hamilton Fairley Award as Heikki Joensuu from Finland. The award will be presented at the ESMO 2014 Congress, held 26-30 September in Madrid, Spain.1
The Hamilton Fairley Award was established in 1988 to commemorate one of the founding fathers of medical oncology in Europe. It is presented to medical oncologists who are internationally recognised for their achievements in cancer science and clinical / laboratory research.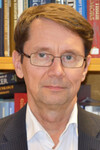 Heikki Joensuu is a member of the ESMO Faculty for Sarcoma. He is known internationally for his clinical and translational research on breast cancer and gastrointestinal stromal tumour (GIST). In 2000 Joensuu and his colleagues discovered that imatinib was effective for most advanced GISTs. In 2004 they began to research imatinib as adjuvant treatment of GIST and in 2011 found that it improved recurrence-free survival and possibly overall survival. Joensuu has chaired important studies on breast cancer including the FinHer trial.
Joensuu took the International Baccalaureate examination at the United World College of the Atlantic, UK, before studying medicine at the University of Turku, Finland, where he graduated in 1981. He became a specialist in oncology and radiation therapy in 1987 and defended his academic thesis the same year. He was appointed as a Lecturer in Experimental Oncology in 1988, then Lecturer in Clinical Oncology in 1990. Heikki Joensuu became Professor of Oncology at the University of Helsinki in 1994 at the age of 37, and acted as Medical Director of the Department of Oncology, Helsinki University Central Hospital from 1995 to 2009. He is currently an Academy Professor at the University of Helsinki and Research Director at the Helsinki Comprehensive Cancer Centre.
Joensuu said: "I feel very privileged and honoured to receive the Hamilton Fairley Award from ESMO. I have been blessed with a chance to work with many talented collaborators, keen scholars and brilliant scientists, without whom I could not have achieved much. I do not know how to thank them enough."
Josep Tabernero, Chair of the ESMO Fellowship and Award Committee, in charge of continuously identifying international researchers and clinicians worthy of recognition, said: "I thoroughly welcome and embrace the nomination of Heikki Joensuu as recipient of the 2014 Hamilton Fairley Award. For more than 25 years, Heikki's tireless commitment to the field has significantly contributed to improved cancer diagnostics and cancer care, particularly in GIST and breast cancer, with specific emphasis on research into the mechanisms of cancer origin and predictive factors."
On receiving the award, Joensuu said: "We now see very sick cancer patients rapidly regain their strength and then live a practically normal life for many years. When I started my career as an oncologist there was no effective treatment for some of these cancers. These seemingly miraculous results may be achieved by just taking a few tablets each day. This is an immense joy to the patients and their families, and a huge improvement in care."
He added: "While realising that we are still far from the ultimate goals of the profession, I would like to dedicate my Hamilton Fairley Award to all those individuals who have contributed to these astonishing recoveries we can now witness."
Tabernero said: "Through Heikki's truly ground-breaking cancer science and clinical discovery, countless patients benefit from novel and combined therapies against cancer. Heikki Joensuu is undoubtedly one of the world's leading trailblazers in drug discovery and precision oncology."
-END-
Notes to Editors
1The Hamilton Fairley Award will be presented to Heikki Joensuu during the ESMO 2014 Opening Session, Friday 26 September 2014, 12:00–14:00, Room Madrid
Hamilton Fairley Award lecture title: 'From molecular biology to Lazarus responses'
Info on all ESMO awards is available at www.esmo.org/Career-Development/Awards
About the European Society for Medical Oncology
The European Society for Medical Oncology (ESMO) is the leading European professional organisation committed to advancing the specialty of medical oncology and promoting a multidisciplinary approach to cancer treatment and care.
ESMO's mission is to advance cancer care and cure through fostering and disseminating good science that leads to better medicine and determines best practice.
ESMO's scientific journal, Annals of Oncology, ranks among the top clinical oncology journals worldwide. ESMO events are the meeting place in Europe for medical oncologists to update their knowledge, to network and to exchange ideas.