ESMO Press Office
The ESMO Press Office welcomes media professionals interested in reporting on cancer.
For enquiries please contact us on:
media@esmo.org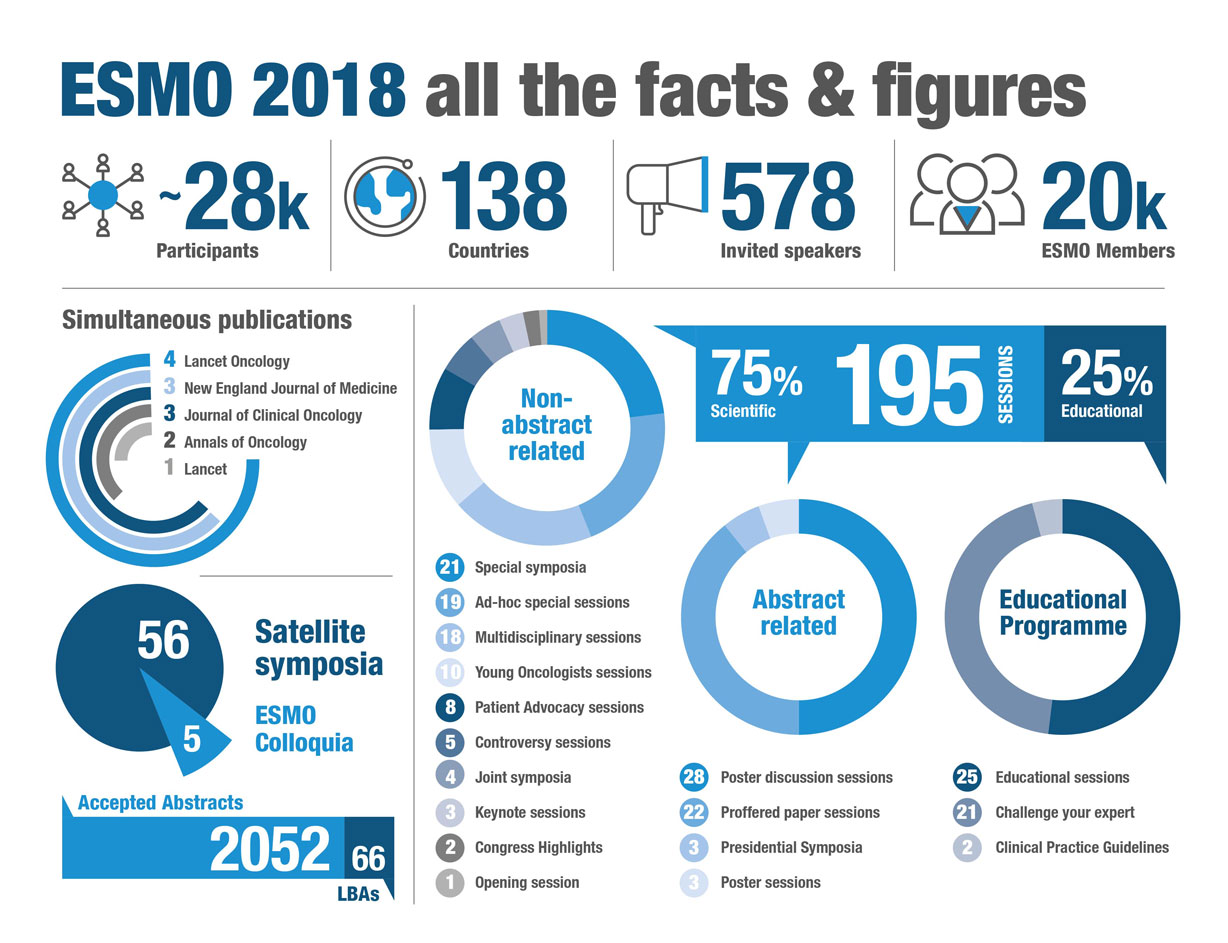 ESMO Press Programme : press releases schedule
The following abstracts are included in the ESMO 2018 press programme and will be accompanied by a press release.
Please note that for some them, the publication schedule may differ from the general one posted above.
Upon publication, direct links to the press releases will be added.
| FPN | Title | Author name | Embargo lift and press release distribution date/time | Press release |
| --- | --- | --- | --- | --- |
| 1891O_PR | Mutational Landscape of Metastatic Cancers Discovered from Prospective Clinical Sequencing at Community Practice Cancer Program | R. Alvarez | Tuesday, 9 October 2018 at 00:05 CEST | Press release |
| 1655P_PR | The use of complementary and alternative medicine (CAM) in sarcoma patients | K. Sungu-Winkler | Wednesday, 10 October 2018 at 00:05 CEST | Press release |
| 1632P_PR | Characterizing the risk of drug-drug interactions in sarcoma treated patients: role of pharmacist integration | A. Bellesoeur | Wednesday, 10 October 2018 at 00:05 CEST | Press release |
| 360P_PR | Breast cancer in Twitter: a real-world data exploratory study | R. Sanchez Bayona | Friday, 12 October 2018 at 00:05 CEST | Press release |
| 1576P_PR | Financial toxicity in German cancer patients. How does a chronic disease impact the economic situation? | E. Winkler | Tuesday, 16 October 2018 at 00:05 CEST | Press release |
| 185O_PR | Serum assessment of non-adherence to adjuvant endocrine therapy (ET) among premenopausal patients in the prospective multicenter CANTO cohort | B. Pistilli | Friday, 19 October 2018 at 00:05 CEST | Press release |
| 619PD_PR | Influence of sex on chemotherapy efficacy and toxicity in oesophagogastric (OG) cancer: a pooled analysis of 4 randomised trials | M. Davidson | Friday, 19 October 2018 at 00:05 CEST | Press release |
| 1555O_PR | Magnitude of Clinical Benefit of Cancer Drugs and Time to Health Technology Assessment (HTA) Decisions in Europe | T. Hwang | Friday, 19 October 2018 at 10:45 CEST | Press release |
| 191PD_PR | 9 weeks versus 1 year adjuvant trastuzumab for HER2+ early breast cancer: subgroup analysis of the ShortHER trial allows to identify patients for whom a shorter trastuzumab administration may have a favourable risk/benefit ratio | P. Conte | Friday, 19 October 2018 at 16:00 CEST | Press release |
| LBA12_PR | PERSEPHONE: 6 versus 12 months (m) of adjuvant trastuzumab in patients (pts) with HER2 positive (+) early breast cancer (EBC): Cost effectiveness analysis results | C. Hulme | Friday, 19 October 2018 at 16:00 CEST | Press release |
| 1213P_PR | Tolerance and efficacy of immune-checkpoint inhibitors for cancer in people living with HIV (PWHIV) | A. Gobert | Saturday, 20 October 2018 at 00:05 CEST | Press release |
| 251P_PR | Pregnancies after breast cancer, is there a real need for fertility preservation ? Results from the ARTEMIS cohort of 60 young patients | J. Martin-Babau | Saturday, 20 October 2018 at 00:05 CEST | Press release |
| 1777P_PR | Identifying barriers to physical activity in patients with lung cancer: an Australian pilot study | Q. Tran | Saturday, 20 October 2018 at 00:05 CEST | Press release |
| 1480P_PR | Effects of Physical Exercise in non-operable lung cancer patients undergoing palliative treatment | E. Wiskemann | Saturday, 20 October 2018 at 00:05 CEST | Press release |
| 1684PD_PR | Physical Activity (PA) and patterns of Quality of Life (QOL) after adjuvant chemotherapy (CT) for breast cancer (BC) | A. Di Meglio | Saturday, 20 October 2018 at 00:05 CEST | Press release |
| 1753P_PR | Benefits of Physical Activity and Sport integrated into the care pathway of oncology patient | L. Vanlemmens | Saturday, 20 October 2018 at 00:05 CEST | Press release |
| 1350PD_PR | Social and behavioral indicators of undergoing a screening test for lung cancer | S. Couraud | Saturday, 20 October 2018 at 00:05 CEST | Press release |
| 962P_PR | Indicators of non-participation in cervical cancer screening: results from the EDIFICE 6 survey | T. de La Motte Rouge | Saturday, 20 October 2018 at 00:05 CEST | Press release |
| 1594P_PR | Indicators of non-uptake of breast cancer screening: results from the EDIFICE 6 survey | J-F. Morere | Saturday, 20 October 2018 at 00:05 CEST | Press release |
| 525P_PR | Profile of individuals who never undergo colorectal cancer screening | J. Viguier | Saturday, 20 October 2018 at 00:05 CEST | Press release |
| LBA14_PR | The HOBOE-2 multicenter randomized phase 3 trial in premenopausal patients with hormone-receptor positive early breast cancer comparing Triptorelin plus either Tamoxifen or Letrozole or Letrozole + Zoledronic acid | F. Perrone | Saturday, 20 October 2018 at 15:00 CEST | Press release |
| LBA3_PR | Alpelisib (ALP) + fulvestrant (FUL) for advanced breast cancer (ABC): results of the Phase III SOLAR-1 trial | F. André | Saturday, 20 October 2018 at 16:30 CEST | Press release |
| LBA1_PR | IMpassion130: Results from a global, randomised, double-blind, phase 3 study of atezolizumab (atezo) + nab-paclitaxel (nab-P) vs placebo + nab-P in treatment-naive, locally advanced or metastatic triple-negative breast cancer (mTNBC) | P. Schmid | Saturday, 20 October 2018 at 16:30 CEST | Press release |
| LBA2_PR | Overall survival (OS) with palbociclib plus fulvestrant in women with hormone receptor-positive (HR+), human epidermal growth factor receptor 2-negative (HER2−) advanced breast cancer (ABC): Analyses from PALOMA-3 | M. Cristofanilli | Saturday, 20 October 2018 at 16:30 CEST | Press release |
| 283O_PR | Phase III trial of chidamide, a subtype-selective histone deacetylase (HDAC) inhibitor, in combination with exemestane in patients with hormone receptor-positive advanced breast cancer | Z. Jiang | Saturday, 20 October 2018 at 16:30 CEST | Press release |
| 424P_PR | Inclusion of adolescents in adult early phase trials and young adults in paediatric early phase trials: a reality or a myth? | A. Vozy | Sunday 21 October 2018 at 00:05 CEST | Press release |
| 1682O_PR | Final results of a phase II/III, randomized, double blind, placebo-controlled study to investigate the efficacy of a high potency multistrain probiotic, on chemotherapy induced diarrhea in cancer patients receiving Fluropyrimidines and/or Irinotecan based therapy | A. Sharma | Sunday 21 October 2018 at 00:05 CEST | Press release |
| 294PD_PR | Management and outcome of metastatic breast cancer in men in the national multicenter observational ESME program | J-S. Frenel | Sunday 21 October 2018 at 00:05 CEST | Press release |
| 273PD_PR | Final analysis of the Male-GBG54 study: A prospective, randomised multi-centre phase II study evaluating endocrine treatment with either tamoxifen +/- gonadotropin releasing hormone analogue (GnRHa) or an aromatase inhibitor + GnRHa in male breast cancer patients | M. Reinisch | Sunday 21 October 2018 at 00:05 CEST | Press release |
| 293PD_PR | Ribociclib (RIBO) + letrozole (LET) in male patients (pts) with hormone receptor-positive (HR+), human epidermal growth factor receptor-2–negative (HER2–) advanced breast cancer (ABC) and no prior endocrine therapy (ET) for ABC: Preliminary subgroup results from the phase 3b CompLEEment-1 trial | C. Zamagni | Sunday 21 October 2018 at 00:05 CEST | Press release |
| LBA48_PR | CTONG 1103:Erlotinib versus Gemcitabine plus Cisplatin as Neo-adjuvant Treatment for Stage IIIA –N2 EGFR-mutation Non-small-cell lung cancer (EMERGING): a Randomised Study | W-Z. Zhong | Sunday 21 October 2018 at 09:15 CEST | Press release |
| LBA6_PR | JAVELIN Renal 101: a randomized, phase 3 study of avelumab + axitinib vs sunitinib as first-line treatment of advanced renal cell carcinoma (aRCC) | R. Motzer | Sunday 21 October 2018 at 16:30 CEST | Press release |
| LBA5_PR | Radiotherapy (RT) to the primary tumour for men with newly-diagnosed metastatic prostate cancer (PCa): Survival results from STAMPEDE (NCT00268476) | C. Parker | Sunday 21 October 2018 at 16:30 CEST | Press release |
| LBA7_PR | Maintenance olaparib following platinum-based chemotherapy in newly diagnosed patients (pts) with advanced ovarian cancer (OC) and a BRCA1/2 mutation (BRCAm): Phase III SOLO1 trial | K. Moore | Sunday 21 October 2018 at 16:30 CEST | Press release |
| LBA18_PR | Durable clinical benefit with nivolumab (NIVO) plus low-dose ipilimumab (IPI) as first-line therapy in microsatellite instability-high/mismatch repair deficient (MSI-H/dMMR) metastatic colorectal cancer (mCRC) | H-J. Lenz | Monday, 22 October 2018 at 09:15 CEST | Press release |
| LBA37_PR | Neoadjuvant ipilimumab plus nivolumab in early stage colon cancer | M. Chalabi | Monday, 22 October 2018 at 011:15 CEST | Press release |
| LBA8_PR | KEYNOTE-048: Phase 3 study of first-line pembrolizumab (P) for recurrent/metastatic head and neck squamous cell carcinoma (R/M HNSCC) | B. Burtness | Monday, 22 October 2018 at 16:30 CEST | Press release |
| LBA9_PR | Cetuximab versus cisplatin in patients with HPV-positive, low risk oropharyngeal cancer, receiving radical radiotherapy | H. Mehanna | Monday, 22 October 2018 at 16:30 CEST | Press release |
| ESMO YouTube Channel | ESMO Flickr Stream |
| --- | --- |
| Visit our YouTube Channel and get access to our latest videos. | Visit our Flickr Stream and browse through our entire photo library |
Policies
Related Links