ESMO Supports World Cancer Day 2019
World Cancer Day 2019: I Am And I Will.
Taking place under the tagline "I Am and I Will", World Cancer Day 2019, on Monday 4 February, will explore how, whoever you are, you have the power to reduce the impact of cancer for yourself, the people you love and for the world.
A word from the President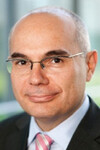 Cancer is not a one-day experience, and the fight against this disease requires a daily commitment and joint efforts from every one of us as healthcare professionals, patients or, more broadly, citizens.
Since 2000, World Cancer Day has represented for all oncology stakeholders and in particular medical oncologists within our professional organisation an annual appointment to reflect on what we have achieved so far and challenges which are still ahead.
How to provide equal access to cancer care while reducing the financial impact of cancer on both individuals and health care systems are issues that still lie at the heart of current oncology.
Last year, the idea that health should be considered as an investment rather than an expenditure was strengthened by the World Health Organisation (WHO) Report on "Saving lives, saving money", recognising that sustainable investments can tackle non-communicable diseases (NCDs) and national economies in parallel in any country. By sharing this vision, ESMO (the leading European professional organisation for medical oncology) plays a key role in supporting this shift in focus around cancer. In this framework ESMO is keen on the collaboration with the WHO on expanding Universal Health Coverage (UHC) packages to include the provision of cost-effective essential cancer and palliative care services delivered at primary and secondary healthcare level.
Financial and economic impact
At ESMO, we believe that the return on wise and sustainable investments can improve care and reduce the financial burden on our patients and their families. Our long-lasting commitment to provide evidence to potentially cost-effective strategies has resulted in tools such as the ESMO-Magnitude of Clinical Benefit Scale (ESMO-MCBS), which aims to support decisions for the approval/reimbursement of cancer medicines by prioritising those with the highest clinical benefit to patients.
Government action and accountability
At our latest ESMO 2018 Congress in Munich, findings from a global analysis involving ESMO together with the WHO, the Union for International Cancer Control (UICC) and the US National Cancer Institute (US-NCI) were presented, helping us to identify the need to invest in effective cancer control planning to improve cancer care at a global scale.
Equity in access to cancer services
Securing equal access to cancer services is a key part of ESMO's mission. Cancers with low incidence in the population can also pose difficulties to patients in having access to the right expertise and centres of reference for receiving optimal care. The creation of Rare Cancers Europe (RCE), a multi-stakeholder partnership addressing the specific challenges of rare cancers, has significantly changed our understanding of these diseases over the last 10 years, by supporting cooperation among expert oncologists from different countries. The network is expanding further with ESMO launching Rare Cancers Asia last year which aims to build a bridge between Asia and Europe and allow best practices to be shared between the two regions.
Reducing the skills gap
Ensuring equal access to essential anti-cancer medicines and related services also means to equip medical oncologists and other professionals from any geographical area with the skills to deliver high-quality cancer care. Our aim is to ensure that all medical oncologists are able to adapt to a rapidly changing professional environment and collaborate effectively with other specialists by offering comprehensive education and training opportunities. Since 2017, we have been working with a number of oncology societies to adapt selected ESMO Clinical Practice Guidelines to the ethnic differences which can affect the management of different types of cancer among Asian patients. Another example are the international Summits that are in programme this year to reach oncology professionals in Africa, Latin-America and other regions of the world where it is particularly challenging, when not impossible, for oncologists to travel to find opportunities to improve their knowledge.
Working together
With the ESMO 2019 Congress, which will take place in partnership with the European Association for Cancer Research (EACR) and in collaboration with the European Oncology Nursing Society (EONS), for example we will continue to support collaborations and create opportunities to share knowledge, perspectives and expertise.
On 4 February we must remember that everyone can play, individually or collectively, his/her part in the fight against cancer, but also that working together is crucial to lead us to more effective and cohesive solutions. Not only today, but every day.
I am Josep Tabernero, ESMO President and I will advocate to make cancer care sustainable
Everyone can make a difference
See how everyone at ESMO, from the Officers to the Staff, is committed to make a difference.
During 2019, every 4th day of the month, baskets of fruits will remind all of us about the importance of a healthy lifestyle: it's not only about World Cancer Day, it's about everyday.
Annals of Oncology
ESMO's flagship journal Annals of Oncology has collated some of the high impact research published in Oxford University Press journals which highlight prevention and risk factors of different cancers. Read the free collection of articles.
Past events