ESMO Examination for Medical Oncologists
2018 ESMO examination
The main session of the 2018 ESMO examination will be held on Saturday 20 October 2018 (17:30-20:00) during the ESMO 2018 Congress in Munich, Germany. Parallel sessions will be held in Egypt, India, Iraq, Germany and Switzerland.
Candidates wishing to register for the Baghdad session are invited to contact us.
The 2018 Exam will be available in English, German or French. Please choose the preferred language in your registration.
If you wish to organize a parallel session in another location please fill in this form and contact us.
Before submitting your registration for the ESMO Examination, we kindly ask you to check your profile and fill in all the mandatory fields. If some information is missing or incomplete, you may not be able to access the Exam registration.
The ESMO Examination is open to MDs who are ESMO members or members of the AIO and/or DGHO (Germany) and to members of the FMH (Switzerland).
Exam registration fees and deadlines
| Deadline | ESMO Members | AIO, DGHO, FMH Members |
| --- | --- | --- |
| Early registration extended to 26 March 2018 | €60.00 + VAT (if applicable) | €300.00 + VAT (if applicable) |
| Late registration: 25 July 2018 | €200.00 + VAT (if applicable) | €300.00 + VAT (if applicable) |
About the Exam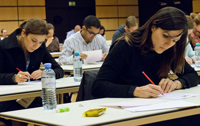 The ESMO examination is a valuable assessment tool for practising medical oncologists and an excellent opportunity for medical oncologists in training to assess their knowledge. The ESMO Examination is the written part of the Board Certification in Medical Oncology in Switzerland and Slovenia. In all other countries the ESMO Examination certifies an excellent knowledge in the field of Medical Oncology according to the criteria of the European Society for Medical Oncology.
The ESMO examination has no legal standing since only national authorities can grant physicians the right to practice.
Successful candidates will be certified for five years. After five years recertification can be attained either by re-taking the ESMO Examination (on passing, recertification is valid for a further five years) or for ESMO members participation in the ESMO Medical Oncologist's Recertification Approval (MORA) which is a proof of continuing medical education – allowing ESMO members to remain certified in medical oncology. If approved, the recertification is also valid for five years.
CME Points
The ESMO examination is accredited with 50 category 1 ESMO-MORA CME points.
Examination Format
Questions cover all fields of medical oncology, including: basic elements of tumour path histology, epidemiology and biology. Besides all cancer types, the ESMO examination includes practice-oriented issues on diagnosis, staging, management, evaluation and prognosis of cancer patients.
Written examination of 150 minutes
100 multiple choice questions are divided as follows:

75 type A questions
25 type K' questions

Pass score: according to the Rasch procedure, the pass score will fluctuate around 60% (empirically ± 5% than in previous years) to keep exam difficulty comparable from year to year
Preparing for the Examination
To prepare for the ESMO examination, we recommend that applicants follow scientific updates published in the major oncology journals, including Annals of Oncology and ESMO Open, and other educational material produced by ESMO.
The OncologyPRO Tumour Sites Portal groups ESMO resources according to the disease or the topic area and will help you find the educational material more easily.
Webcasts from the ESMO Academy 2017 can also be accessed via OncologyPRO. (ESMO members and event attendees)
Privacy Policy
No information about the ESMO Examination's results will be communicated to third parties unless authorised by the candidate and only if requested.
ESMO Examination 2017
Read the report from the 2017 ESMO Examination
Examination analysis
ESMO examination analysis is powered by the University of Bern, Switzerland. Representatives from the Institute for Medical Education of the University of Bern have acknowledged the authority of the ESMO examination and its value as a high-quality assessment tool.