ESMO Preceptorships: Testimonials
Are you thinking of applying to take part in an ESMO Preceptorship meeting? Previous participants share their thoughts and experiences...

"This preceptorship exceeded my expectations. It covered all the major topics from screening to treating EBC to ABC in a comprehensive and interactive manner and it was helpful in questioning local practices by giving clear guidelines supported by strong evidence. I had a great experience interacting with international peers and specialists in the field and I believe I have learnt a lot in these two days."
Ha Mo Linh Le, Belgium
ESMO Preceptorship on Breast Cancer, Lisbon, November 2018

"I am grateful to ESMO for participating in this highly-educational course where I had the opportunity to learn the basic science of Immuno-Oncology and the latest improvements in different tumour types. Thanks to this experience, I now feel more prepared to select patients for immunotherapy treatments, as well as taking care of patients and toxicity management. It was a real great chance to be updated in all aspects of the immunotherapy."
Adela Patcas, Romania
ESMO Preceptorship on Immuno-Oncology, November 2018

"This preceptorship offered a very valuable opportunity to get acquainted with the novelties in the therapy of prostate cancer. I have learned a lot about the classification and graduation of prostate cancer, treatment of localised prostate cancer, radiotherapy, sequencing of the therapy, as well as treatment monitoring. The communication with the faculty members was very amiable and productive. I was very pleased to meet the colleagues from all over Europe and share the different approach in treatment practices. Even during the dinner, the faculty members have always been available for discussion. They gave us their contacts and were ready to share their knowledge/experience with us."
Petra Jurčić, Croatia
ESMO Preceptorship on Prostate cancer, October 2018

"This preceptorship course provided a unique opportunity to be updated in all aspects of Gastric Cancer from different multi-disciplinary experts, e.g. good overview of all relevant clinical trials (ongoing reported), what is new in endoscopic techniques, what a surgeon would consider optimal surgery etc. This course allowed me to come up with ideas for future research and provided me with a reminder of the evidence base for some of the decisions we make in everyday practice. Really good opportunity to network, update my knowledge and understand how practice might vary in other countries. Wonderful experience, very passionate faculty."
Shelize Khakoo, United Kingdom
Esmo Preceptorship on Gastric cancer, September 2018

"This meeting contributed to improve my knowledge in clinical practice in brain tumours and underlined the importance of being up-to-date with the latest news as well as the importance of following up the ESMO clinical practice guidelines. Very good! I'm very happy to have had the opportunity to get in touch with such great European experts. I appreciated the informal atmosphere of the course."
Sara Merler, Italy
ESMO Preceptorship on Brain Tumours, September 2018

"I would like to thank ESMO for this rewarding experience! By participating to this course I have consolidated my knowledge, gained tools to look at the current practice guidelines and new perspectives. The course was a thought provoking, practice-changing opportunity to interact with major experts in the field and I really appreciated how they were able to give a full picture of current clinical management in the field of mRCC and bladder cancer by merging evidence based data and real world problems."
Shaik Maheboob Hussain, India
Preceptorship on Metastatic Bladder and Kidney Cancer, Singapore, September 2018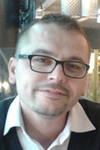 "The course had a fruitful, interactive and academic approach thanks to which I could clarify many concepts concerning biology of cancer, multidisciplinary management and treatment advances. This experience was extremely motivating and suits perfectly the needs of the young oncologists. Lectures were excellent, full of interesting information and the speakers were outstanding. Their clear methodology was essential to help us grab the most important concepts and take home the most important messages."
Romeo Bani, Albania
ESMO Preceptorship on Head and Neck Cancer, Zurich, May 2018

"The participation to this ESMO Preceptorship allowed me to learn the best multidisciplinary approach by following the advices of pathologists, radiation oncologists, surgeons and medical oncologists. Now I will definitely be more efficient in the multidisciplinary board discussions. It was a very interesting experience for my daily practice as well as an opportunity to network with young oncologists from all over Europe. ESMO preceptorships are a unique way to share the best practice in your field with young colleagues and faculty leaders."
Anthony Turpin, France
ESMO Preceptorship on Colorectal Cancer, Valencia, May 2018

"This has definitely been a thought-provoking, practice-changing experience. After this, I can say that not only do I feel a better physician, but also I have the impression that I have been offered a wider perspective in an exciting and demanding discipline of oncology. After discussing with most of the other participants, I have the sense that this meeting has succeeded in conveying to us its most important message: that we should not manage AYA cancer patients as smaller versions of adults, but as unique individuals, with their own specific needs and worries that suffer from a disease with a unique biology, that calls for a specific approach."
Stavros Gkolfinopoulos, Greece
ESMO Preceptorship on AYA Malignancies, Lugano, May 2018
"It was a magnificent and eye-opening experience for which I am very grateful. It is amazing what is happening in the field of immuno-oncology and I am glad I have chosen this specialty. Thanks to this Preceptorship I have learnt that basic science is strongly correlated with clinical science and that in order to be a complete doctor you have to understand and rely on both. This meeting will definitively bring a valuable contribution to my future practice, also because the subjects were approached in a very authentic and "patient" way that made them easy to understand for young oncologists like me."
Silvana-Adelina Gheorghe, Romania
Preceptorship on Immuno-Oncology, Lugano, May 2018

"During this meeting we had the opportunity to discuss new approaches which put patients into context as individuals, with all their needs and fears, but obviously still keeping in mind our treatment goals. I have also improved my communication skills and my clinical judgement which have become more evidence-based and patient-oriented. It has been an amazing, unforgettable and very inspiring experience. I am grateful to all the faculty members and appreciated their openness and honesty."
Nikita Shorokhov, Russian Federation
ESMO Preceptorship on Supportive and Palliative Care, April 2018

"I have now consolidated my knowledge on NEN and the discussion with the faculty members has opened my mind about new aspects of my daily clinical research and activity. Thanks to this meeting my confidence in NEN management has increased: I gained tools to look at current guidelines with a more critical approach. It has been a very rewarding experience and an opportunity to exchange ideas with the major experts in the field and with other young colleagues. I have really appreciated how the faculty has given a full and clear picture of the current management by merging the evidence-based data with the real-world problems, hence providing us with very interesting solutions and information."
Claudia von Arx, United Kingdom
ESMO Preceptorship on Neuroendocrine Neoplasms, April 2018

"It was a very enriching experience. I leave Manchester definitely more prepared to treat patients with lung cancer. The programme was very well balanced and it helped me organize my knowledge in lung cancer and fulfil some gaps I had, with the opportunity of questioning experts. It is always different to "learn from the books" than to have specialists in the field giving their own opinion about the data we have. Thank you for the opportunity! "
Marta Vaz Batista, Portugal
The Christie Preceptorship on Lung Cancer, Manchester, March 2018

"This Preceptorship was overall a very positive experience. The faculty made of experts of the field was very good in explaining difficult concepts and providing a great summary of the basic science and evidence surrounding nasopharyngeal and oropharyngeal cancer. The case discussions were particularly productive and raised a lot of interesting questions for future trials to address."
Lawrence Kasherman, Australia
Preceptorship on Head & Neck Cancer, Hong Kong, March 2018

"The Preceptorship was very comprehensive and informative and I really appreciated how it was able to incorporate special issues and concerns in the field that are not commonly discussed such as breast cancer in pregnancy, male breast cancer and management of elderly and young breast cancer patients."
Edgar Christian Cuaresma, Philippines
Preceptorship on Breast Cancer, Singapore, November 2017

"This course was very well organized and lectures were designed to allow adequate discussions and comments pertaining to each topic. Immunotherapy might be the future of our daily clinical oncology practice and thanks to this programme I have improved my knowledge in this field."
Rammohan Prasanna, India
Preceptorship on Immuno-Oncology, Singapore, November 2017
"I have really appreciated the clarity of the trials review and how the faculty gave an interesting picture of the evolving landscape of prostate cancer. Thank you for allowing me to be part of this Preceptorship, it was the best event I have been to this year."
Vanessa Wong, Australia
Preceptorship on Prostate Cancer, Singapore, November 2017

"I really appreciate the dedication of ESMO in delivering world-class education to everyone and its commitment to improve knowledge, advance science and possible cancer cures.
In my last experience at the NSCLC Preceptorship all the presentations and their contents were clear and very useful."
Karthikeyan Perumal, India
Preceptorship on NSCLC, Singapore, November 2017

"Preceptorship courses are excellent opportunities to gain updated and authentic knowledge along with building professional relationships. During these meetings you can exchange your views and easily ask questions to the faculty in order to get appropriate solutions to real practice problems."
Mishra Ashutosh, India
Preceptorship on Gastrointestinal Tumours, Singapore, November 2017

"By participating to this meeting, I could discover new possibilities in therapy strategies but also in prevention and imaging of Breast Cancer. I had the opportunity to hear about the latest findings in the field and on the communication with patients. The faculty members were excellent in their presentations and in sharing knowledge, with their winning familial easy-to talk to- approach. The programme was very well picked. Thanks to all this I will be more confident with the latest data and in discussing treatment options in our tumour board and I will advise my patients about their disease and therapy possibilities in a more sensitive way. "
Frederike Klaassen Federspiel, Austria
Breast Preceptorship, Lisbon, November 2017
"ESMO Preceptorships is about learning, sharing knowledge and networking at the same time. My experience at this meeting was totally positive, either for the scientific environment I plunged in and for the logistic organization. I had the opportunity to learn new notions and refresh my knowledge. All this will help me in choosing the right treatment for my patients relying on evidence based results."
Giulia Orsi, Italy
Preceptorship on Immuno-Oncology, Zurich, November 2017

"The participation to this meeting has allowed me to redefine the importance of continuing education: it is only through frequent updates that we can deliver the best diagnosis and treatment options possible. I appreciated the perfect organization of the event, the comprehensive information and high level of the invited speakers. This meeting is a model of top educational event for young oncologists."
Calogero Mazzara, Switzerland
Lymphoma Preceptorship, Lugano, November 2017

"The great structure of this course allowed a fluid and stress-free learning. The Faculty proposed a complete and pragmatic overview of the management of Colorectal Cancer patients and covered daily practice issues as well as unanswered questions to be investigated in possible trials. I could better understand the tumour type attribution and their new compounds development correspondence."
Jessica Menis, France
Colorectal Cancer Preceptorship, Barcelona, October 2017

"This Preceptorship has left me with a very interesting and pleasant memory. Like all ESMO events, it was a truly rewarding experience providing evidence-based information and true guidance in the presented field. The participation in this ESMO course will give me the certainty that when I will be treating patients, I will be doing all that I can, according to the highest standard of care, provided by highly experienced and performant specialists."
Luminita Gurguta, Romania
Prostate Cancer Preceptorship, Lugano, October 2017

"This Preceptorship provided a bigger picture of the epidemiology, pathology, molecular biology, diagnostic approaches and treatment of Gastric Cancer than any other event. I will now consider additional aspects such as tumour heterogeneity when treating individual patients, and I will also make sure that the practice changing results of recent trials are implemented in my center. It is really amazing how dedicated ESMO is to education: we share the same goal - improving patient care - and I think that giving the same access opportunities to young oncologists from wealthy and less wealthy countries, as ESMO does, is crucial for this common objective."
Nina Fokter Dovnik, Slovenia
Gastric Cancer Preceptorship, Valencia, October 2017

"Participating in this meeting brought me a new awareness on the importance of sharing my opinion with other specialists in the management of patients with colorectal cancer to ensure a multidisciplinary decision making process. Given the content of the course, I will also much more consider the use of locoregional approaches other than surgery. The nice environment of this very informative meeting brought me to the conclusion that ESMO young oncologists are the beating heart of an innovative oncology consisting of new ideas and career opportunities."
Elisa Giommoni, Italy
Colorectal Cancer Preceptorship, Valencia, May 2017
"The conference was well organised, comprehensive and very enjoyable. The speakers were well-rehearsed and the material was well tailored to the audience. The opportunity to meet young oncology trainees from across the continent was fairly unique and certainly worthwhile. In terms of the presented material, I thought that there was a good mix of basic/translational science and clinical information. I would highly recommend this course to all my colleagues, since it was a fantastic and memorable couple of days!"
Amit Samani, United Kingdom
Immuno-Oncology Preceptorship, Amsterdam, May 2017

"Excellent interaction with the faculty! The meeting was very well organised and structured. Enough time was given to the participants to discuss interesting clinical cases. By attending this preceptorship, not only could I refresh my knowledge on Neuroendocrine Neoplasms, benefiting the most from such a multidisciplinary approach, but I have also improved my knowledge on various aspects of it, especially in the areas of radiology, nuclear medicine and surgery."
Danilo Martinovic, Germany
Neuroendocrine Neoplasms Preceptorship, Prague, April 2017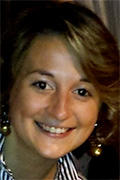 "This preceptorship has been a wonderful experience! Definitely a great opportunity to learn about the management of ovarian cancer from surgery to the new horizons. Excellent faculty!!! Clinical case discussions were very interesting. I've learnt much about the best clinical practice and how to improve patients' outcomes, to focus on new clinical trials, new treatment pathways and future perspectives. It has been a great opportunity to meet experts and fellows from all over Europe, to share our clinical experience and clinical cases and keep contacts for future collaborations"
Eleonora Ghisoni, Italy
Ovarian Cancer Preceptorship, Prague, April 2017

"The participation to this meeting had broaden my knowledge and critical reading of clinical trials, which will allow me to communicate better with my patients and answer their questions. It was also a great opportunity to exchange clinical daily practice with other participants. The thing I appreciated the most about this course was the high level of educational performance of the speakers, which allowed me to get familiar to standards of lung cancer treatment in other countries in Europe."
Weronika Maria Szejniuk, Denmark
Lung Cancer Preceptorship, Manchester, March 2017

"Thank you ESMO for this opportunity! This event was very well organized. I had the opportunity to learn about new data related to fatigue, anorexia, nutrition and cachexia, as well as psychological issues and communication skills during the end-of-life talks. I will try to develop good communication skills in my daily practice. It was also very interesting to exchange opinions with colleagues coming from all Europe."
Jelena Dimitrijevic, Serbia
Supportive and Palliative Care Preceptorship, Zurich, February 2017

"I am very grateful for the great opportunity I had to attend this unique Preceptorship. It gave me the chance to understand from different perspectives the field of Immuno-Oncology. The meeting has also been a great opportunity to attend the lectures of leading experts. As we do not have this kind of events in Poland, it was very important for my education and inspiring for the development of the research project in vulvar cancer. It was also a pleasure to take part in the networking dinner, where I met all the colleagues from all over Europe and discussed future projects."
Kamil Zalewski, Poland
Immuno-Oncology Preceptorship, Madrid, February 2017

"ESMO meetings always give me a new experience beyond my expectation. The qualification and credibility of the Faculty members to guide the topics is absolutely influencing our knowledge and determination. I have also appreciated the validity of recent publications and data presented by the Faculty. The discussions and the ESMO guidelines are a reference point to me in order to update my department's protocols and achieve better outcomes."
Juli Jamnasi, Indonesia
Prostate Cancer Preceptorship, Singapore, December 2016

"I truly learned a lot! The Faculty focused on liquid biopsy and immunotherapy use. I received a lot of updates on scenarios that I also see every day in my clinic. There will be a few adjustments that I will have to make based on Faculty input. The interactive format of the event was very helpful in getting the attention of the audience. The Faculty showed insight in giving suggestions about how clinical decisions should be made."
Jaime Enrique Hilado, Philippines
NSCLC Preceptorship, Singapore, December 2016
"This experience was great! This course has provided me a platform to interact, exchange information and learn from the clinical experience of oncologists coming from all over the world. The clinical cases discussions helped me to learn how to manage different clinical scenarios and the knowledge acquired during this event will allow me to take better decisions when I treat patients. It will also help me to discuss all the possible treatment options with the patient in order to take better decisions."
Deepthi Valiyaveettil, India
NSCLC Preceptorship, Singapore, December 2016

"Fantastic series of experienced lecturers from basics of Immuno-Oncology and Immuno-Therapy to translational work. This event helped me to understand intricate details and put things into perspective, especially during the clinical cases discussions. It was definitely helpful to focus on basic biology, as we increasingly use more immunotherapy as standard practice, especially in managing toxicities. Excellent organization, including venue and food. I have thoroughly enjoyed it and I will go home to tell other trainee colleagues to come."
Jonathan Lim, United Kingdom
Immuno-Oncology Preceptorship, Zurich, November 2016

"During the Preceptorship I obtained lots of useful notions, especially on new treatment approaches for different malignancies, clinical trials and adoptive T-cell transfer. The presentations were full of interesting data and at the same time easy to understand. Now I can recognize the importance of signalling pathways and I changed my opinion about possible effects of vaccines. I would like to express my gratitude to ESMO for such an excellent opportunity. Sharing opinions and experience with my colleagues from all over the world brought me to a comprehensive view on Immuno-Oncology. Many thanks!"
Evgenia Kharchenko, Russian Federation
Immuno-Oncology Preceptorship, Zurich, November 2016

"It was a nice experience! I think I will change few things in the treatment of Hodgkin's disease and in the methods of follow-up patients diagnosis with HHL. I liked the practical aspects learned in the management of patients and the interaction during the discussions. I appreciated the fact that all the recommendations were based on evidence from clinical trials and the personal opinions of the Faculty were separated."
Ana-Maria Moldovianu, Romania
Lymphoma Preceptorship, Madrid, November 2016
"This preceptorship meeting provided me with comprehensive topics and multidisciplinary expertise to improve the benefits of our patients' treatments. Our daily practice will surely adopt the most recent recommendations by ESMO to achieve better results and quality of life of our patients. The experience has been superb and beyond expectations. I am very excited about learning and discussing issues with the experts. I sincerely thank the Committee and especially ESMO to make this happen."
Juli Jamnasi, Indonesia
Gastrointestinal Tumours Preceptorship, Singapore, October 2016

"This event helped me on my research project on Master Cells and Molecular Biology. I feel I have been fully equipped to go and face my studies. I have enjoyed many presentations and clinical cases. The course was very well organised and I really appreciated to see professionals working from all angles in order to find breakthroughs in cancer treatments. I especially would like to thank all the staff for the event planning, the cooperation and the good accommodation."
Jenipher Choto, United Kingdom
Immuno-Oncology Preceptorship, Amsterdam, September/October 2016

"This was my second Preceptorship and ESMO has once again surprised me. The most informative part of the course was the discussion of treatment options in triple negative breast cancer and I am sure it will have a positive effect on my daily practice. For young oncologists like me these are precious moments to learn from high level professionals. I would rate the course as excellent."
Narmin Talibova, Azerbaijan
Breast Cancer Preceptorship, Lisbon, September 2016

"The Lisbon Breast Cancer Preceptorship was an important experience for my professional life. I found every moment worthwhile. From now on I will look in a new light the disease and the treatment options. I would like to say thank you to ESMO for giving me the opportunity to be a participant and to attend these refined activities. Colleagues and experts from all over the world were open to share their experience and offer excellent advices in daily practice."
Emoke Palyi-Kiss, Romania
Breast Cancer Preceptorship, Lisbon, September 2016

"I appreciated the great, open and welcoming atmosphere I found at this very well organised meeting! I gained new knowledge about molecular profiles in colorectal cancer and I could acquire a better overview of new trials. I think that the background knowledge I have obtained will help me in making better treatment decisions. In addition, the speakers were very engaging and gave great lectures."
Bodil Engelmann, Denmark
Colorectal Cancer Preceptorship, Prague, July 2016

"This was my first preceptorship: I can say that this type of educational events is very beneficial for young oncologists. This course included the presentation of the newly published ESMO Consensus guidelines which helped me to better understand the strategy I should follow with my patients with Metastatic Cancer. I appreciated the support of ESMO, the well organised sessions and also the high calibre Faculty members."
Ahmed Ramadan, Denmark
Colorectal Cancer Preceptorship, Prague, July 2016

"This meeting was amazing, really useful and exciting for several reasons: good quality of the programme and speakers, networking with colleagues and experts from different countries/institutions and, last but not least, excellent location, organization and kindness of all the staff. I believe that what I learnt by participating made me more confident in my knowledge and will guide me in my future studies."
Cinzia Solinas, Belgium
Immuno-Oncology Preceptorship, Siena, July 2016

"I would rate this experience as excellent! Much better and more informative than any other conference on prostate cancer I have ever attended. The comprehensive nature of the course, covering all aspects of prostate cancer management, in addition to its interactivity, created a perfect match. I would definitively like to be part of other Preceptorships in the future."
Alok Gupta, India
Prostate Cancer Preceptorship, Prague, June 2016
"It has been a "full immersion event" allowing me to get familiar with advances and standards of care in management of gastric cancer. I particularly enjoyed the possibility to talk with the speakers during the discussion time and the breaks. I also loved the clinical cases discussion because some of them were really challenging and gave me the opportunity to check what I've learned in the first day and revise my approach according to the presentations!"
Dorota Nowakowska, Poland
Gastric Cancer Preceptorship, Prague, June 2016

"This has been a wonderful experience. This was my first ESMO conference and I was absolutely impressed by the Faculty members, the content of their presentations and the interesting modes of delivery. In addition to that, the relaxed atmosphere of the meeting was perfect to learn about improving oncology care with evidence based medicine."
John Tabiri Abebrese, Belarus
Gastric Cancer Preceptorship, Prague, June 2016

"I had an excellent overview of current evidence in Colorectal Cancer research that will impact my present practice helping me making better decisions and giving me more confidence in defining treatment strategies. This course was a great opportunity for me since I am still at the beginning of my clinical practice: for this reason, I could not share a significant experience but I felt confidant to ask questions and to interact with the experts in this friendly environment."
Maria João Silva, Portugal
Colorectal Cancer Preceptorship, Valencia, May 2016

"It was an excellent experience! A great opportunity for trainees to get a brilliant overview of relevant topics on management of Colorectal Cancer as well as an insight into practices in different countries and last but not least, the chance to meet other trainees from across Europe. I also appreciate the opportunity to listen to experts in the field and speak directly with them".
Alexa Childs, United Kingdom
Colorectal Cancer Preceptorship, Valencia, May 2016

"An enriching experience I would recommend to everyone! I found this preceptorship on lung cancer very educational and well organised – a good balance between the update on recent studies and the clinical practice approach. I am sure some of the latest data from clinical trials will be of benefit to my daily practice."
Giulia Buzzati, Italy
Lung Cancer Preceptorship, Manchester, February 2016

"I would like to say thank you very much to ESMO for the great organisation of the preceptorships, the warm welcoming and the hard work you are doing for us. I would leave a very positive feedback on the previous course of ESMO, the Gastric Cancer Preceptorship in Brussels. I must say that the sessions were with no doubt of a very high quality and interesting, the speakers were very open to discussions. As far as the organisation was concerned, I would have no comment, excellent venue, housing and very accessible location from Europe."
Andra Piciu, Romania
Gastric Cancer Preceptorship, Brussels, September 2015

"I found that ESMO Preceptorship on gastric cancer was a rewarding experience that I would definitely recommend to anyone who are in training. It helps to learn, share knowledge and better understand oncology from different points of view"
Carmen Herrero, Spain
Gastric Cancer Preceptorship, Brussels, September 2015

"The Prague Immuno-oncology Preceptorship was a great success and I feel privileged to have been involved with this with my colleague Olivier Michelin. We welcomed sixty young oncologists from all over the world (Australia, India, Vietnam, Lebanon, Ukraine, and Europe). The faculty was made up of international experts from a broad range of tumour-types who shared a common interest in immuno-oncology and an enthusiasm for education and research. The programme left plenty of time for discussion and indeed it was these interactions that were key to the success of the Preceptorship. All delegates submitted a case for discussion and five were selected for presentation. These were of a very high standard and represented a broad range of disease-types and challenging questions, congratulations to the presenters.
Immuno-oncology is changing how we treat cancer patients. It will be our young colleagues who have to develop and deliver the promise of this treatment approach. I learnt a lot at this meeting and I feel the attendees did as well. Congratulations to ESMO for organising and supporting such a worthwhile educational event."
Paul Lorigan, United Kingdom
Co-Chair ESMO Preceptorship on Immuno-Oncology, Prague, October 2015

"As a junior ESMO member, I am very appreciative of the ongoing investment and support ESMO provides me. Experiences like the ESMO preceptorship, not only empower our medical career development but also provides the framewor to reach our full potential as oncologists, both clinical and in research."
Gilberto Morgan, Sweden
"Words cannot fully express how much I appreciate the chance ESMO gave me as an young oncologist to attend a preceptorship meeting. I had the opportunity to improve my knowledge and to meet and discuss with top oncologists around the Europe. After the meeting I felt one step up in my career."
Lika Katselashvili, Georgia
Prostate Cancer Preceptorship, Prague, April 2015

"I always find all the ESMO faculties, staff and participants very warm and welcoming to discussions and suggestions during and after meetings. I recently participated in the Preceptorship Meeting on Prostate Cancer and I found every moment worthwhile, just like previous ESMO Meetings. I am especially thankful to ESMO for their generous support in the form of travel grants which enable young oncologists to attend these highly refined educational activities, which will have a tangible impact in sharpening and shaping their oncology career."
Surendra Pal Chaudhary, India
Prostate Cancer Preceptorship, Prague, April 2015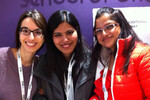 "Sara Valpione, from Italy found that the preceptorship was a great experience, with a professional and friendly atmosphere. "The sessions were interactive with ample discussions with The Christie faculty and participants" said Madiha Kanwal from China. Sunishtha Yadav from India highlighted that such meetings are very important for Clinical/Medical Oncologists and Scientists/Researchers alike: "The meeting focused on both translational research and the medical implementation. Furthermore, this provides a platform for networking and vital exchange of knowledge"."
From left: Sara Valpione, Italy; Madiha Kanwal, China and Sunishtha Bhatia, India
Immunotherapy of Cancer Preceptorship, January 2015