Ipilimumab for melanoma: New data show survival benefit in the adjuvant setting and dose–response in metastatic disease
Important new data from a phase III trial of ipilimumab versus placebo as adjuvant treatment for melanoma were reported in a Late-Breaking Abstract presentation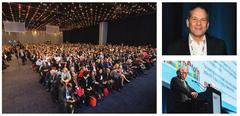 Important new data from a phase III trial of ipilimumab versus placebo as adjuvant treatment for melanoma were reported in a Late-Breaking Abstract presentation yesterday by Dr Alexander Eggermont from Institut Gustave Roussy, Villejuif, France (Abstract LBA2_PR).
The study randomised 951 patients who had undergone complete resection of stage 3 melanoma to ipilimumab 10 mg/kg (every 3 weeks [q3w] for 4 doses and then every 3 months up to 3 years) or placebo (EORTC 18071). The primary endpoint was met, with a significant improvement in recurrence-free survival (RFS) previously reported.1 According to the data presented yesterday, at a median of 5.3 years' follow-up, the RFS benefit with ipilimumab versus placebo translated into significant improvements in secondary endpoints, with a 28% reduction in the risk of death (overall survival [OS] hazard ratio [HR] 0.72; 95% confidence intervals [CI] 0.58–0.88; p=0.001) and a 24% reduction in the risk of distant metastases (HR 0.76; 95% CI 0.64–0.92; p=0.002). The 5-year OS rate was 11% higher in the ipilimumab arm (65%) than in the placebo arm (54%). Toxicities were similar to previous reports and included grade 3–4 gastrointestinal (16%), hepatic (11%) and endocrine (8%) adverse events.
Data from the first phase III study to directly compare ipilimumab 10 mg/kg and 3 mg/kg given q3w for 4 doses in patients (N=727) with stage 3–4 melanoma who had not received prior BRAF or immune checkpoint inhibitor therapy were also reported yesterday by Dr Paolo Ascierto from Istituto Nazionale Tumori Fondazione Pascale, Naples, Italy (Abstract 1106O).
Dr Ascierto noted that, "There was a marked improvement in OS with higher-dose ipilimumab in these patients." At a minimum follow-up of ~43 months, median OS (primary endpoint) was 15.7 months (95% CI 11.6–17.8) with 10 mg/kg versus 11.5 months (95% CI 9.9–13.3) with 3 mg/kg (HR 0.84; p=0.04). "Although patients who received 10 mg/kg ipilimumab experienced higher rates of drug-related toxicity, the clinical utility of such a schedule in refractory patients warrants further evaluation," he added.
The study confirms earlier phase II data with ipilimumab in previously treated advanced melanoma.2
1. Eggermont AMM, et al. Lancet Oncol 2015;16:522–30
2. Wolchok JD, et al. Lancet Oncol 2010;11:155–64
This article appeared in the Sunday edition of the Daily Reporter