ESMO 2018 Congress: Young Oncologists Track
The Young Oncologist (YO) Track Sessions are specially designed by young oncologists for young oncologists and initiated by the ESMO Young Oncologist Committee (YOC). The sessions are educational and cover topics which are highly relevant to YOs in their daily practice and/or research activities.
YO Track sessions are always very popular and well attended, and for good reasons: not only do attendees acquire a deeper knowledge on key aspects, but the sessions also provide attendees with a platform for networking with other oncology professionals.
Here below, you can find the overview of the 2018 YO Track which includes practical tips, information and take-home messages from other young oncologists, those who have recently walked the career path you are on now, and senior key opinion leaders.
The fully integrated Young Oncologists (YO) Track at ESMO Congresses represents a jewel in the crown of our expanding portfolio of programmes and initiatives devised to deliver on the requirements of young oncologists in today's ever-emerging landscape of precision medicine in oncology.
Especially crafted to provide guidance, educational opportunities, translational two-way exchange and debate, as well as real solutions matched to the needs of our Society's junior members, I am confident that this year's programme is set to inspire and enthuse participants and speakers alike!
Navigating ESMO 2018 Congress
Not sure how to best plan your congress days? Stop by the ESMO Member Lounge Saturday, Sunday and Monday 08.00-08.30 – members of the YOC will be on hand to share their top picks of the day, sessions for you to attend and webcasts to catch up on!
Vesalius Talk
Friday, 19 October 2018, 17.30-18.30, ICM Foyer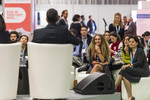 The Vesalius Talk is an excellent opportunity for a direct discussion between young oncologists and more senior opinion leaders in the field of medical oncology. The 2018 Vesalius Talk will tackle the sensitive issue of burnout in oncology and the importance of a work-life balance especially at early stages of young oncologist's career. The audience will have the opportunity to ask practical advice from the panel. The session will be followed by networking and refreshments.
Work/life balance at early stages of young oncologist's career
Panellists
YO Session for Medical Students and new Physicians
Saturday, 20 October 2018 15.00-16.00, Room B11 ICM building on Mezzanine level
TThe programme includes a session especially dedicated to the ESMO-ESO Student Course on Medical Oncology, chaired by ESMO Educational Committee chair Andrés Cervantes. It starts off with practical information and it is followed by a poster walk to view and comment on some of the posters presented at the congress. The limited available seats are distributed on first come, first served basis.
ESMO-ESO Medical Students Course – Andrés Cervantes, ES
How to prepare and present your first poster at a congress – Anna Berghoff, AT
Poster walk – Teresa Amaral, PT, Mila Petrova, BG, Anna Berghoff, AT
YO Brunch Sessions
20, 21, 22 October 2018, 11.00-11.45 (ICM)
Practical, personal and professional development tips for YOs during a late morning brunch slot (snack is provided). These sessions delivered in a relaxed and friendly environment with the opportunity to asks questions and enter a discussion, are extremely useful for delegates to learn about tried and tested approaches to developing skills that they can adopt for improving their own academic careers.
Saturday (room 14c): Fertility and pregnancy in cancer – Fedro Peccatori, IT
Sunday (room 14a): Breaking bad news: how to deal with end-of-life discussions? – Eva Masel, AT
Monday (room 14a): Biosimilars: what they are and their use in oncology – Rosa Giuliani, IT
YO Masterclass
Sunday, 21 October 2018, 14.30-17.30, room 14c (ICM)
The YO Masterclass, chaired by Guillen Argilés, ES (YOC chair and YO Track chair) and Therese Sørlie, NO (EACR representative) is organised in collaboration with the EACR and features international speakers discussing how genetic data can influence the design of clinical trials.
From genetic data to clinical trial design: Joint session EACR and ESMO YOC
Next generation sequencing of cancer – Nicola Normanno, IT
Fighting cancer with biomarker data analysis – Stefan Michiels, FR
Immuno genetics and immuno genomics – Niels Halama, DE
Crystallising knowledge: new trial designs in the molecular oncology era – Jordi Rodon, US
YO Mentorship Session
Monday, 22 October 2018, 09.30-10.30, room 14c (ICM)
Pre-registration required! Sign up here to participate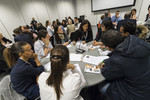 This innovative session was launched in 2016 and has become very popular among young oncologists attending the Congress. Key opinion leaders will share their experience and vision, both professional and personal, in an informal setting encouraging open conversation with mentors and peers. Pre-registration is required to attend and discuss educational and career development choices with leading oncology experts.
topic 1: Clinical oncology
topic 2: Basic science
topic 3: Translational research
topic 4: Industry
YO Clinical case discussion: Clinical cases of solid tumours: Discussion Forum for Young Oncologists
Monday 22 October 2018, 13.00-14.00, room 14c (ICM)
Pre-registration required! Sign up here to participate
This is a new and a highly interactive round tables discussion on clinical cases on solid tumours, for a small group of attendees. The expert speakers in each of the 3 topics present scenarios and guided the discussion along with a YOC member coordinator. Pre-registration is required to this session which will be introduced by the session YOC coordinators.
topic 1: Soft Tissue Sarcoma – Paolo Casali, IT
topic 2: Prostate Cancer – Johann de Bono, UK
topic 3: Non-Small Cell lung cancer – Tanja Cufer, SL
YO Fellowship Session – Fellowships in Europe: Educational opportunities for Young Oncologists
Monday, 22 October 2018, 14.15-15.45, room 14a (ICM)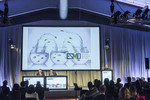 The fellowship session features presentations by two previous ESMO fellows, who are chosen from a competition open to recent fellowship recipients. Practical advice from a former fellow, Loredana Vecchione, NL and career-impact details from the ESMO Chair of Fellowship & Award Committee Evandro de Azambuia, BE, will add to the detailed overview of available ESMO Fellowship and the ESMO Leaders Generation Programme. The 2018 research fellowships awardees and the Best Exam Award 2017 will be presented at the end of the session.
YO Forum: Research projects: from ideas to papers
Monday, 22 October 2018, 16.00-17.00, room 14a (ICM)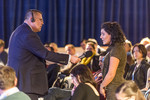 This session will provide hints and tips on the development of a successful research project, overcoming challenges and obstacles and making the most out of it.
How to select and define your project – Antoni Ribas, US
How to write a proficient project and get it financed – TBC
Dealing with obstacles faced during your project – David Olmos, ES
Maximising your clinical investigations: how to structure your paper – Fortunato Ciardiello, IT