Cisplatin-Based Chemoradiation: In Which Setting(s) Could Cisplatin Replace Mitomycin in the Treatment of Localised Anal Squamous Cell Carcinoma?
Date: 17 May 2013
Author: Omar Abdel-Rahman
Affiliation: Clinical Oncology Department, Ain shams University Hospital, Egypt
Topic: Gastrointestinal cancers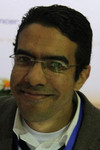 Cancer of the anal canal accounts for 4% of all anorectal malignancies and 1.5% of gastrointestinal malignancies (1). In recent decades, the incidence of anal cancer has globally shown an increasing trend concomitant with the global epidemic of AIDS. And despite the marked progress in understanding of anal cancer biology, little progress has been made in terms of improvement of treatment outcomes.
Historically, radical surgery through abdomino-perineal resection was considered the standard treatment for anal squamous cell carcinoma, till Nigro et al. published their first report of a 3 patient study which showed pathological complete response at time of surgery after neoadjuvant radiotherapy 30 Gy plus concurrent 5-FU/mitomycin (2). Since then a number of phase 2 and 3 studies have been published confirming that combined chemoradiotherapy (with 5-FU and mitomycin) should be the standard treatment for epidermoid anal cancer; the most notable of these studies is the EORTC study (published in 1997) and the UKCCCR ACT I study (first published in 1996 and a 13 year follow-up in 2010) (3, 4).
Further research has since focused on improving the efficacy as well as the toxicity of the chemoradiotherapy approach, either by adopting newer radiotherapy technologies like intensity-modulated radiation therapy, or by investigating other cytotoxic chemotherapies or targeted therapies in various combinations before, with, or after radiation therapy.
In a RTOG 98-11/Intergroup study, standard mitomycin/5-FU-based concurrent chemoradiotherapy has been tested against induction cisplatin/5-FU chemotherapy followed by concurrent cisplatin/5-FU-based chemoradiotherapy. The results were disappointing and cisplatin-based therapy failed to improve disease-free survival compared with mitomycin-based therapy, but cisplatin-based therapy resulted in a significantly worse colostomy rate. This approach has therefore been disregarded (5).
The ACT II study has examined a different approach; in 2×2 factorial design, it compares standard upfront mitomycin/5-FU–based chemoradiotherapy with upfront cispaltin/5-FU-based chemoradiotherapy then randomises patients to two courses of maintenance chemotherapy (5-FU and cisplatin at weeks 11 and 14). This is the largest anal cancer study to date, with 940 patients enrolled, and results showing almost similar complete response rates (90.5% for mitomycin group versus 89.6% for cisplatin group) and toxicity rates (71% for mitomycin group versus 72% for cisplatin group) and similar progression-free survival for maintenance versus no maintenance treatment (3-year progression-free survival was 74% for maintenance versus 73% for no maintenance).
This study has presented to oncology community with an alternative, equally efficacious, chemoradiotherapy regimen for anal squamous cell carcinoma that can be beneficial in patients with contraindications to the use of or intolerability to mitomycin chemoradiotherapy. Additionally, this study together with the previous RTOG study indicates a lack of benefit of induction and/or maintenance cisplatin/5-FU chemotherapy in the treatment of localised anal squamous cell carcinoma.
Discussion question:
In your practice, what are the criteria with which you would allocate anal squamous cell carcinoma patients to either mitomycin-based or cisplatin-based chemoradiotherapy?
References:
Siegel R, Ward E, Brawley O, et al. Cancer statistics, 2011: the impact of eliminating socioeconomic and racial disparities on premature cancer deaths. CA Cancer J Clin. 2011 Jul-Aug; 61(4):212-36.
Nigro ND, Vaitkevicius VK, Considine B Jr. Combined therapy for cancer of the anal canal: a preliminary report. Dis Colon Rectum 1974 May-Jun; 17(3):354-6.
Bartelink H, Roelofsen F, Eschwege F, et al. Concomitant radiotherapy and chemotherapy is superior to radiotherapy alone in the treatment of locally advanced anal cancer: results of a phase III randomized trial of the European Organization for Research and Treatment of Cancer Radiotherapy and Gastrointestinal Cooperative Groups. J Clin Oncol 1997 May; 15(5):2040-9.
Northover J, Glynne-Jones R, Sebag-Montefiore D et al. Chemoradiation for the treatment of epidermoid anal cancer: 13-year follow-up of the first randomised UKCCCR Anal Cancer Trial (ACT I). Br J Cancer 2010 Mar 30; 102(7):1123-8.
Ajani JA, Winter KA, Gunderson LL, et al. Fluorouracil, mitomycin, and radiotherapy vs fluorouracil, cisplatin, and radiotherapy for carcinoma of the anal canal: a randomized controlled trial. JAMA 2008 Apr 23; 299(16):1914-21
Cisplatin-Based Chemoradiation: In Which Setting(s) Could Cisplatin Replace Mitomycin in the Treatment of Localised Anal Squamous Cell Carcinoma?
Thank you for rating!
You have already rated this page, you can only rate it once!
Egyptian anorectal carcinoma
I would like to appritiate the effort that my friend have done in this article
Also I would like to comment in toxicity that we see during application of chemoradiotherapy in Egypt.
For most of the patient we see grade II, III toxicity after the third and fourth week in the form of wet desquamation in the grion.
When we apply 3 DCRT, the toxicity may be less.
This toxicity is much more in fat patients .