ESMO Women for Oncology Sessions
Participate in an ESMO Women for Oncology Session
In an effort to support female oncologists wishing to attain leadership roles, ESMO continuously seeks to generate occasions where women oncologists can be inspired by exceptional role models and build relationships that can support their career advancement.
ESMO Women for Oncology Forum at ESMO 2019, Barcelona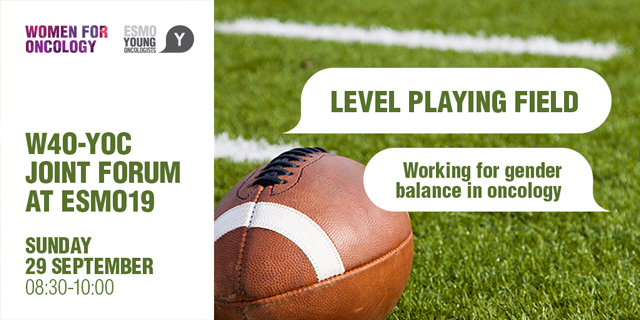 Sunday 29 September, 8.30 – 10.00, room Toledo, Hall 5 (at ESMO 2019, Barcelona, Spain)
Building a future where the entire oncology workforce has the same career's opportunities, independently from factors such as gender, race or age. Sharing this common ambition, both the ESMO Women for Oncology and Young Oncologist Committees are pleased to announce the joint Forum "Level playing field: working for gender balance in oncology" held at the ESMO Congress 2019 in Barcelona, Spain.
Level playing field is a situation in which everyone has a fair and equal chance of succeeding.
Programme
Part 1 - Lectures
The Forum will explore what are the necessary steps to bring fairness and equal opportunities in oncology to the next level. Participants will have the chance to get updates on gender-related data from the oncology field, and to hear inspiring stories from keynote speakers as well as testimonies about best practices in introducing gender balance in the workplace.
Part 2 - Mentorship sessions
Participants will have the opportunity to take part in discussion tables and interact with mentors about specific topics to get first-hand advice, concrete ideas and answers to bring back home.
Participation in the mentorship sessions is upon registration only. Do not miss the opportunity of hearing more about the topic of your interest, register now!
TOPIC 1. National Initiatives: what can be done at the local level to promote gender equality?
TOPIC 2. How do you find a good mentor?
TOPIC 3. Time management: how to combine clinic and family?
TOPIC 4. Fostering individual resilience and dealing with burnout
Interactive Talk – brought to you by W4O
Sunday 29 September, 18.15- 19.15, CC4 Foyer (at ESMO 2019, Barcelona, Spain)
The importance of sex and gender differences and their interaction with disease biology and treatments is currently a hot topic in the healthcare sector. Similarly, the need for their inclusion in research and experimental design is a matter of debate. Do not miss the opportunity of getting involved in a direct discussion with experts in the field by attending the Interactive Talk on Sunday 29 September during ESMO 2019 in Barcelona, Spain.
At the centre of the talk the question "Sex and gender-sensitive medicine: are we ready to switch paradigm?"
Panellists:
Susanna Grego, Cardiologist, Cardiocentro Ticino, Switzerland
Sabine Oertelt- Prigione, Strategic Chair for Gender in Primary and Transmural Care, Radboud University, The Netherlands
Solange Peters, ESMO Women for Oncology Committee Chair
Anna Dorothea Wagner, Medical oncologist , Centre hospitalier universitaire Vaudois, Switzerland
At the end of the session, stay on a bit longer to network with the panellists and other participants. And take the opportunity to meet the members of the Women for Oncology Committee and get to know more about the ESMO Women for Oncology initiative.