ESMO Women for Oncology Sessions
W4O-YOC joint Forum: Level playing field: working for gender balance in oncology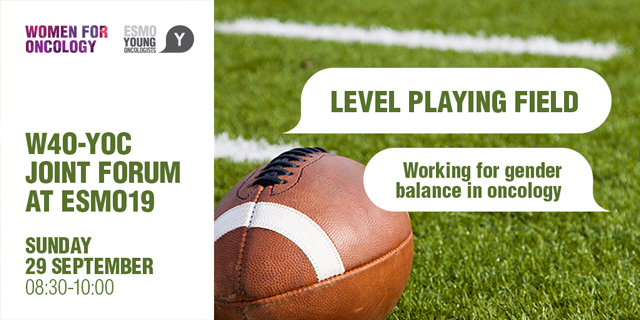 Building a future where the entire oncology workforce has the same career opportunities, independently from factors such as gender, race or age: Sharing this common ambition, the ESMO Women for Oncology and Young Oncologist Committees jointly organised the Forum "Level playing field: working for gender balance in oncology" at the ESMO Congress 2019 in Barcelona, Spain.
"Gender-related issues are not only of interest to female professionals, but the whole oncology community would benefit from ensuring a level playing field," says Solange Peters, Chair of the ESMO Women for Oncology Committee (read the full article here.
Level playing field is a situation in which everyone has a fair and equal chance of succeeding.
The forum explored what the necessary steps are to bring fairness and equal opportunities in oncology to the next level.
Participants had the chance to get updates on gender-related data from the oncology field presented by the ESMO Women for Oncology Committee Chair, Solange Peters. To follow, the keynote speaker Sabine Oertelt-Prigione, Strategic Chair for Gender in Primary and Transmural Care at the Radboud University (The Netherlands), shared the inspiring story of her atypical career and the five personal lessons she learnt along the way. To conclude, the second keynote speaker, Michelle McIsaac, economist at the Health Workforce Department at WHO (Switzerland), brought testimonies about best practices in introducing gender balance in the workplace.
Participants also had the opportunity to take part in discussion tables and interact with mentors about specific topics to get first-hand advice, concrete ideas and answers to their questions to bring back home.
Interactive Talk – brought to you by W4O
The importance of sex and gender differences and their interaction with disease biology and treatments is currently a hot topic in the healthcare sector. Similarly, the need for their inclusion in research and experimental design is a matter of debate. An interactive discussion on this theme, to explore the topic of gender from a different angle, was brought to participants in the ESMO Congress 2019 by Women for Oncology.
At the centre of the talk the question "Sex and gender-sensitive medicine: are we ready to switch paradigm?" Interacting with participants a team of multidisciplinary panellists including Susanna Grego, cardiologist at Cardiocentro Ticino (Switzerland); Sabine Oertelt-Prigione, Strategic Chair for Gender in Primary and Transmural Care at the Radboud University (The Netherlands), Solange Peters, ESMO Women for Oncology Committee Chair and Anna Dorothea Wagner, medical oncologist at the Centre Hospitalier Universitaire Vaudois (Switzerland).
Do you want to know more about what this discussion addressed? Read this article on the ESMO Daily Reporter.