ESMO Women for Oncology Sessions
Participate in an ESMO Women for Oncology Session
In an effort to support female oncologists wishing to attain leadership roles, ESMO continuously seeks to generate occasions where women oncologists can be inspired by exceptional role models and build relationships that can support their career advancement.
2018
ESMO Women for Oncology Forum at ESMO 2018, Munich
Come and contribute to the discussion on how "Sharing the power" could foster gender equality in oncology
This year, ESMO Women for Oncology invites you to attend its Forum to explore the topic of "Sharing the power" between men and women as a possible solution to fostering gender equality, by creating a diverse and more inclusive environment.
Keynote speakers Manjit Dosanjh, Senior Advisor for Medical Applications at CERN and UN representative for GWI (International Federation of University Women), and Francesco Panese, Professor of Sociology at UNIL, will share their personal experiences and bring forward their perspectives on the topic. Discussions in small groups will follow, looking at concrete ways to implement the sharing concept in the oncology field.
Women for Oncology national networks will also present their activities and share their experiences.
Follow the Women for Oncology Facebook page and the W4O Forum Facebook event to stay updated!
Friday, 19 October, 13.30 – 15.30 – Room 24, Hall B4
2017
ESMO Women for Oncology Session at ESMO 2017, Madrid
Women oncologists worldwide: current situation and challenges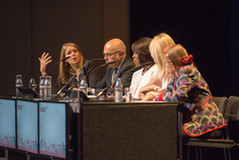 The Women for Oncology Session 2017 aimed to raise awareness about the current situation of women medical oncologists and the challenges they face worldwide.
After an update on the results from the ESMO Women for Oncology survey on gender-related challenges presented by Solange Peters, Women for Oncology Committee Chair, the session continued with three round-table discussions led by oncology experts and women leaders. Discussions tackled hot topics such as gender disparities in the medical field, how gender opportunities are treated at a political level, and how ESMO could play a pivotal role in driving the change to reduce the gender gap. To conclude the session, Frances Shepherd, Co-Chair of the Session, was celebrated on winning the ESMO Women for Oncology Award 2017 as an acknowledgement for being a role model for all women in oncology and promoting equality in oncology careers.
2016
ESMO Women for Oncology Session at ESMO Asia 2016, Singapore
The session focused and addressed the role of mentors and sponsorship in women's leadership careers development. During the session, the 2016 results on the representation of female oncologists as invited speakers at international oncology congresses and within boards of oncology societies have been presented, together with the results of the 2016 survey on challenges for women leadership development in oncology. Data were aimed at putting into perspective the situation of women oncologists in the Asian region and at providing useful insights on the situation at the international level.
ESMO 2016 Women for Oncology session – 9 October 2016, Copenhagen
Presentations and discussions about women's career challenges in oncology
The session focused on the role of mentorship and sponsorship for women oncologists in order to support their career development.
The results of the 2016 exploratory study on the gender-related challenges of medical oncology professionals were presented by Solange Peters, showing that the lack-of work-life balance is one of the main barriers in reaching gender parity.
Sumitra Thongprasert (Thailand) received the 2nd ESMO Women for Oncology Award thanks to her contribution to address the inequalities faced by women oncologists seeking leadership positions.
Take a look at the pictures of the ESMO W4O Session's past editions
ESMO Asia 2016 - Women for Oncology Session