Susana Banerjee
ESMO Board Member
Function
ESMO Executive Board

Term
2017 – 2018
Address
Gynaecology Unit
Royal Marsden
London
Country

United Kingdom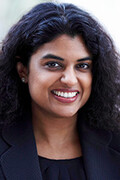 Dr Susana Banerjee (MBBS MA MRCP PhD) is a Consultant Medical Oncologist and Research Lead for the Gynaecology Unit at the Royal Marsden, London, UK. She is a Team Leader (Associate Honorary Faculty) in Gynaecological Cancers at the Institute of Cancer Research. Dr Banerjee specialises in ovarian cancer and the systemic treatment of endometrial and cervical cancers.
Dr. Banerjee graduated with a 1st class from St. John's College, University of Cambridge and completed her medical training at Royal Free Medical School where she was a University of London Gold Medal Finalist. Dr Banerjee was awarded an Avon Breast Cancer Crusade Clinical Fellowship for laboratory research and gained a PhD from the Institute of Cancer Research, University of London. She was awarded the San Antonio Breast Cancer Symposium Novartis Oncology Basic Science Award for her research in 2007. Other prizes include the Association of Cancer Physicians McElwain Prize and the Sir Antony Driver Prize. She was also 'highly commended' for the Pfizer British Oncology Association Young Investigator Award. She completed specialist training at The Royal Marsden and was appointed a Consultant in 2011.
Dr Banerjee serves on several national and international specialist groups including the National Cancer Research Institute (NCRI) Gynaecological Cancers Clinical Studies Group, European Organization for Research and Treatment of Cancer (EORTC) Executive Steering Committee for Gynaecological Cancers, NCRI ovarian and cervical cancer subgroups. She also served on the ESGO (European Society of Gynaecological Oncology) Faculty in 2015.
Dr Susana Banerjee was an active member of the ESMO Young Oncologists' Committee (YOC) from 2010-2016. She led the ESMO YOC Burnout Survey- the largest survey in Europe presented in 2014. She served on the ESMO Nominating Committee 2014-2015 and is currently a member of the ESMO Women for Oncology Committee. Dr Banerjee was selected to be part of the first Leaders Generation Programme in 2016. Susana is involved in a number of ESMO-related educational activities including being Co-Chair of the ESMO Medical Students Course (2015 and 2016), Track Chair (Young Oncologist) for the European Cancer Congress in 2015 and a member of the OncologyPro Working Group. She is an author of the ESMO/ASCO Global Curriculum in Medical Oncology, ESMO-ESGO-ESTRO Consensus on Endometrial Cancer and Co-Editor of the ESMO Handbook of Translational Research. She is on the Gynaecological Cancers sub-committee for the ESMO Congress 2017 (in partnership with EACR) and the Track Chair for Gynaecological Cancers for the ESMO Congress 2018. She joined the ESMO Executive Board in 2017.
Dr Banerjee is actively involved in clinical trials and translational research. Her research interests include individualisation of patient treatment and targeted therapies in gynaecological cancers. Dr Banerjee is UK Chief Investigator and principal investigator at the Royal Marsden for multiple national and international clinical trials. She is on the Advisory Board for Nature Reviews Clinical Oncology journal and Editorial Boards of Cancer Treatment Reviews and ESMO Open.