Pilar Garrido
ESMO Council
Function
Press & Media Affairs Committee Chair

Address
University Hospital Ramón y Cajal (IRYCIS)
Madrid
Country

Spain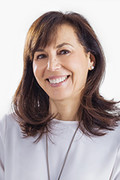 Pilar Garrido is Associate Professor of Medical Oncology at Universidad de Alcalá (Madrid, Spain) and serves as Head of the Thoracic Tumours Section in the Medical Oncology Department at the University Hospital Ramón y Cajal in Madrid, Spain.
Co-director of the Cancer and Chronic Disease Research Group at Instituto Ramón y Cajal de Investigación Sanitaria (IRYCIS), her main areas of research and clinical interest are thoracic tumours, in particular multimodality management, predictive biomarkers, immunotherapy and newanticancer agents in lung cancer. Dr. Garrido is in charge of teaching and patients care and is also actively involved in a number of phase I-III lung cancer clinical trials. Active member of CiberOnc, a Spanish Ministry of Health Network of clinical and translational research, she is building a translational program in collaboration with other clinical and experimental biology Spanish cancer groups. Author of several peer-reviewed manuscripts and book chapters, she serves on the Editorial Board of different journals and has presented her work nationally and internationally.
Former president of the Spanish Medical Oncology Society, she currently participates on a variety of national scientific committees and is engaged with National Political and Administrative Institutions. Dr. Garrido is member of the Spanish National Cancer Strategy Committee and the Minister of Health advisory council. Actively involved in training, she is President of the National advisory board for training in Health Science Specialties as well as President of the Medical Oncology Specialty Training Committee.
Member of the ESMO Council and Chair of the Press & Media Affairs Committee, she also serves as member of the ESMO Fellowship Committee, Women For Oncology Committee, IASLC Bylaws Committee and ESMO Faculty for lung and other thoracic tumours. Recently, she has been appointed as Associate Editor of Annals of Oncology.