Translating Basic Research to the Patient's Bedside
How are cross-disciplinary collaborations revolutionising the field of oncology? What are the challenges that lie ahead?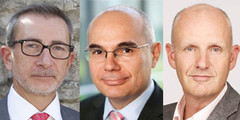 The word 'translate' has its origins in the Latin word translatio, meaning 'to carry across'. It is fitting then, that the rapidly growing discipline of translational medicine is focused on carrying discoveries from the laboratory bench to the bedside of the patient, as quickly and effectively as possible. And nowhere is translational medicine making more spectacular gains for patient welfare than in the field of cancer.
We are in the midst of an exciting era in cancer medicine. Our understanding of cancer biology has skyrocketed in recent years, with a host of new discoveries about the molecular mechanisms and immunology of cancer. At the same time, new technologies allow researchers to explore the phenotype and genotype of tumours at a level of detail not seen before, and to do so in rapid time.
A new model for cancer and cancer treatment
Cancer is no longer viewed as a homogenous disease, as we have come to understand that within each cancer, there may be a huge range of subtypes with its own molecular and genetic signature. There is no longer a one-size-fits-all treatment approach and instead treatment must be tailored to each cancer's unique molecular vulnerabilities.
Sometimes, this uncovers a new molecular sub-type, a new oncogene, or a new biomarker for which we have no treatment. Then the flow of information changes back towards the researchers, giving them a new biological puzzle to solve.
This process is illustrated by the recent discovery of a BRAF V600E mutation in some patients with metastatic colorectal cancer. Early trials of existing BRAF inhibitors in these patients failed, but it was soon discovered that BRAF inhibition led to a surge in the expression of tyrosine kinase receptors. Phase two clinical trials combining a BRAF inhibitor with an EGFR inhibitor are now underway.
A molecular subtype was discovered, a treatment tested, a failure investigated, a new theory developed, and a new treatment approach successfully tested, with patient survival gains achieved. Ten years ago, this process would have taken at least five to seven years. Instead, it took two.
Almost as soon as a patient is diagnosed with cancer, biopsies are taken and imaging is performed, and that data is subject to an extraordinary complex set of processes, including genome sequencing, plasma analysis looking at circulating tumour cells and circulating free DNA, the culture of tumour organoids, molecular imaging, and MRI with metabolomics … to name just a few.
Bringing researchers and clinicians together
The physical and operational distances that used to separate cancer research from cancer treatment have all but disappeared. Instead, a new model of cross-disciplinary collaboration has emerged, which brings together basic scientists, pathologists, radiologists, oncologists, surgical and radiation oncologists to ensure the best treatment is found for the patient.
Large cancer centres are well-placed to co-locate researchers and clinicians, and enrol patients into clinical trials. Furthermore this new level of collaboration is occurring not just within institutions but also across borders and even across sectors. Both the pharmaceutical industry and regulatory authorities are adapting to this new translational paradigm.
Organisations like ESMO also play an important role in this process. Through high-level connectedness to the major cancer centres across Europe, ESMO has a finger on the pulse of cancer research. This means it is well placed to know which new developments are coming through the pipeline and to communicate this to government agencies, so they are better prepared when new treatments emerge into the regulatory arena.
We are also seeing the emergence of new collaborative platforms and partnerships with industry with the intention of speeding drug development by improving access to biological samples and data. One of these platforms SPECTAcolor, set up by the European Organisation for Research and Treatment of Cancer (EORTC), has been established as a prospective, fully-annotated tumour sample bank and biomarker analysis platform for the genetic profiling of patients with advanced colorectal cancer. There are also plans to include imaging information.
This means a company doesn't have to screen 2000 patients to find the 200 that they need for their development, thus avoiding repetition, reducing redundancy, and increasing the chance of patients with less common subtypes of disease being able to participate in clinical trials.
'Adaptive licensing', or the 'adaptive pathways' approach to drug approval has recently been adopted by the European Medicines Agency as a way to speed up patient access to new treatments.
This allows for a staggered approach to approval, whereby early initial approval is granted for a defined sub-group of patients with high medical need, then later expanded as more clinical trial data becomes available. Alternatively, early regulatory approval is granted, conditional on the collection of post-approval clinical data.
The path is not a smooth one: challenges ahead
However this new model of cross-disciplinary collaboration runs the risk of leaving behind smaller community hospitals, who may lack access to the technology needed to participate in such complex research. Patients in less wealthy countries are also missing out on newer treatments and clinical trials, for the same reasons. The translational medicine revolution still needs to develop the infrastructure to ensure the benefits of translational research are extended to all, not just the most wealthy or well-equipped.
There are also concerns that the increasing focus on translational research will be to the detriment of basic research. It is easy to forget that the fundamental groundwork for the astonishing successes we are currently seeing in the field of cancer immunotherapy was laid many decades ago.
The speed with which discoveries are being brought to trial conceals the long, hard work done by basic scientists: without their efforts, we would have nothing to test. While we embrace the excitement of translational medicine, we must also work to ensure high-quality fundamental research is not neglected, because that is the foundation upon which future translational research projects will be built.
Personalised medicine also brings with it a challenge to the existing clinical trial model, which often relies on large numbers and a broad brush-stroke approach to prove efficacy. We are now faced with the question of how to trial therapeutic approaches that may only be relevant to a very small percentage of patients with a particular molecular sub-type; the extreme of which being the n=1 clinical trial.
Collaborate to translate
Translational medicine is as much about collaboration as it is about technological progress. These are exciting times for cancer research and therapy, as huge advances in computing power and the speed of communication mean large volumes of data can be exchanged rapidly around the world.
Where once research groups would work more or less in isolation, we are now seeing the emergence of collaborative networks; bringing together the collective scientific might of the many cancer centres that have embraced the translational approach to cancer research and therapy.

Share your thoughts on this topic by joining the discussion on the ESMO Facebook page.