Young Blood: inside the ESMO Young Oncologists Committee
At the heart of ESMO's efforts to support young oncologists (YOs) is the Young Oncologists Committee (YOC), a band of inspired, enthusiastic peers who understand what the new generation of oncologists need and are constantly trying to develop new ways to provide it.
Matthias Preusser
Medical University of Vienna, Austria, 2016–2017 YOC Chair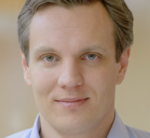 I've been a member of ESMO since I started my oncology training back in 2006 but it wasn't until 2011, when I was invited to join the YOC to plan ESMO 2012, that I really began to appreciate the true value of the YO programme. One of the defining moments of the 2012 Congress for me was the launch of the YO networking event, which even now continues to shape many of my friendships and collaborations.
Skip ahead five years and here I am as the 2016–2017 YOC Chair! What an honour. Taking over the Chair from Raffaele Califano is great, because it really allows me to build on the many successful projects and initiatives the Committee developed during his term. For me, supporting the career development of individuals who are, in effect, tomorrow's leaders, is at the heart of the Committee's remit. I am particularly interested in the drive to attract members at an earlier stage of their career, which is something I would have found helpful when I was deciding which direction to take. I really enjoy working with young people and am excited about the initiative we are developing around mentorship sessions and educational projects talking about why—and how—to become an oncologist.
Michiel Strijbos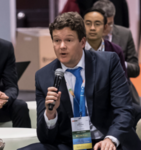 AZ Klina, Iridium Cancer Network, Brasschaat, Belgium, YOC Member
I was invited to join the YOC three years ago after I had attended the Vesalius Talk at the 2013 European Cancer Congress and had asked the faculty lots of questions! If I were asked to identify the biggest challenge facing YOs today, I would say it is how to achieve a good work-life balance. That's something I'm still struggling with! I think the two most important ways the YOC helps today's YOs are by encouraging the formation of networks (the key to advancing your knowledge and your career) and by providing educational tools giving easy access to top level knowledge. Like Matthias, I feel strongly that attracting medical students to medical oncology is key to engaging the next generation of YOs. The most important benefit for me personally of being a YOC member is the chance it has given me to get to know and work with an incredibly talented and motivated group of oncologists.
Teresa Amaral
Health Care Direction, Portuguese Air Force, Lisbon, University Hospital, Tuebingen, Germany, YOC member
ESMO has undoubtedly helped me as a YO. Among the many activities it provides, I strongly recommend preceptorships, which enabled me to keep in contact with other YOs, learn from experts in the field and update my knowledge quickly, an important consideration for the busy intern! As a new YOC member in 2016, I am really looking forward to the opportunity to improve YO networking in my own country. Through collaboration between the YOC, the Portuguese YO group and the Portuguese Society of Oncology (SPO), I am sure that we will soon see a better awareness of ESMO activities among Portuguese YOs, and I was pleased to be invited to present on YOC activities and ESMO networking opportunities in my capacity as a YOC member at the recent SPO 2016 meeting. Together with YOC colleagues, I want to try to minimise differences between the opportunities available for East and West European countries. We are already working together on some initial projects and I'm confident we will succeed. I would also like to get involved in new projects for women in oncology, particularly YOs who are trying to combine a career with being a mother.
This article appeared in the December 2016 edition of ESMO Perspectives.
Enjoyed the article and would like to read more?
You can get the entire edition by just clicking on the button below:
Download the first edition of ESMO Perspectives